Dieter Rams Double Review - Less and More & As Little Design As Possible
Double review of Less and More: The Design Ethos of Dieter Rams and Dieter Rams: As Little Design as Possible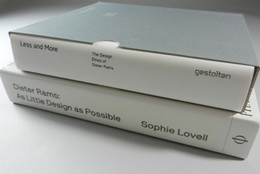 Review by Carolina de Bartolo
"To design is to think." —Dieter Rams, Industrial Designer (b. 1932–, Weisbaden, Germany)
What can I tell you about Dieter Rams that you don't already know? Since one of his many famed mottoes regarding good design is "less but better," if I was to tell you too much or to tell you something about him you already know, my words might embody the very weakness in design that Rams warns us against.
"I was lucky that I began at the right moment and that I stopped also at the right moment." —Dieter Rams
For example, I'd probably already be saying more than necessary if I told you that: 1) Rams is one of the most influential industrial designers of the late 20th century who; 2) developed products that were and are used daily by millions of people; and 3) was the lead designer at Braun for nearly 40 years [1. Rams was employed at Braun from 1955 to 1997, during which time he designed or co-designed over 500 products.] where he designed everything from coffee makers and juicers to alarm clocks, calculators, speakers and record players. I'd also likely be telling you something you already know if I mentioned that his credo "10 Principles for Good Design" is an exemplary manifesto.
"Very good design, however, does not evolve only by ticking those ten boxes. From a good ordinary design there should always be the possibility for an outstanding, self-explanatory design to arise. It very seldom happens." —Dieter Rams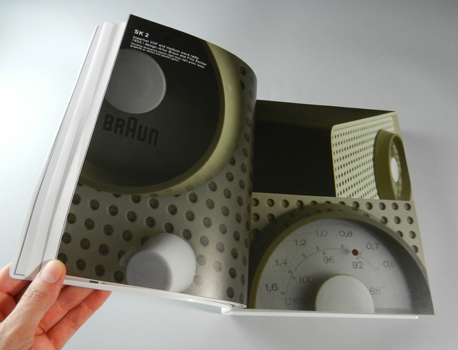 (Image: Less and More: The Design Ethos of Dieter Rams, Gestalten)
However, I might be explaining things better if I was to offer a few lesser-known details such as: 1) he was the first to design a clear plexiglass cover on a record player [2. The first clear plexiglass cover a record player was on Braun's SK4 from 1956, nicknamed "Snow White's Coffin."], a design feature that was widely copied by competitors and thus became the norm; and 2) his 1960s designs for Braun's audio equipment heavily influenced Apple's long-time lead designer, Jonathan Ive; and 3) in 1959 he designed the first portable record player, the precursor to the Walkman and then, of course, the iPod; and 4) his Universal Shelving System for Vitsoe+Zapf, an interchangeable modular storage unit conceived and designed in the 1960s, is still in production today.
When a designer originates things we take for granted as having always been that way, when he makes things that are in continuous use for decades and when his influence can be seen and felt for generations afterward, it is clear that individual is practicing the profession at its highest level. No matter what kind of design you engage in [3. If you are wondering what kind of designer you are or, whether you are a designer at all, bear in mind the words of Nobel laureate and Carnegie Mellon University professor Herbert Simon: "Everyone designs who devises courses of action aimed at changing existing situations into preferred ones." In short, everyone designs. Ergo, everyone can learn from Rams.], Rams offers you guidance, through his designs themselves and through his philosophy of design.
Suffice it to say Rams is sublime.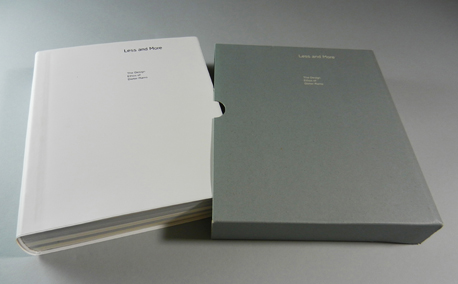 So it pleases me that a couple impressive tomes of his work have recently been published. The first of these is Less and More: The Design Ethos of Dieter Rams edited by Klaus Kemp and Keiko Ueki-Polet and published by Gestalten (Amazon: US|DE|UK). This is the catalog for the exhibition "Less and More," a retrospective of Rams's work that originated at the Suntory Museum, Osaka, Japan in 2008 and has travelled to Tokyo, London, Frankfurt and is currently at the San Francisco MOMA. Filling the catalog's 808 pages are countless closeup full-color photos and essays in both German and English. The majority of the photos are printed on a matte-coated stock and the text-only pages are printed on a creamy uncoated wafer-thin bible paper. The book is as thick and flexible as a phone book, but its page size is smaller and more square. It is covered in white vinyl and, thankfully, it is housed in a chipboard slipcase that allows it to stand up properly on a shelf. Rams has said he was always interested in the mixture of materials and this particular artifact seems to have taken a cue from that notion.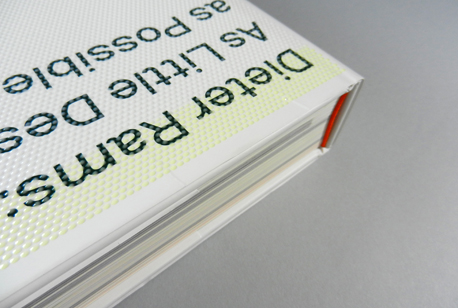 Just a few months ago, Phaidon published a 400-page monograph Dieter Rams: As Little Design as Possible (Amazon: US|UK|DE) by Sophie Lovell with a foreword by Jonathan Ive. As an artifact, it is a more traditional book than the Gestalten title, slightly larger, casebound in white with a thermographically-printed textured dust jacket reminiscent of the dotted mesh Rams so skillfully employed on his product designs. Inside it is also is printed on two kinds of paper stock, an uncoated cream sheet for the text-only pages and a matte-coated sheet of similar heft for the innumerable full-color photos.
These books are picture books, as they should be. However, both have substantial textual matter, some of which is rather similar in content. Both offer much historical context, recounting the history of Braun and the cultural forces, events and personalities surrounding its founding. They both also offer a biography of Rams himself, detailing the influence of his grandfather's woodworking, his education as an architect, his pre-Braun employment as an interior designer.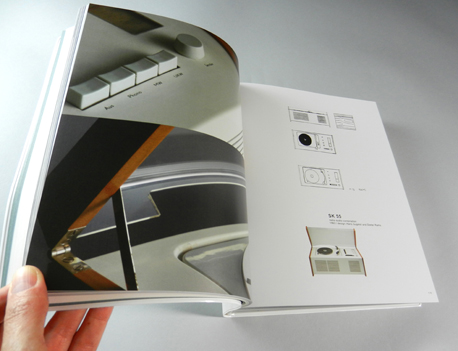 (Image: Less and More: The Design Ethos of Dieter Rams, Gestalten)
From Gestalten's Less and More:
"For 40 years Dieter Rams led the Braun design team, always seeking out the ultimate unification, the harmonization between interior and exterior. The Braun design process is the process of pursuing an ideal relationship, a resonance between the internal and the external. … If one is won over by the design of Rams and Braun, it is clear that it is not due to an aura emanating from the material. Its strength lies in the design itself."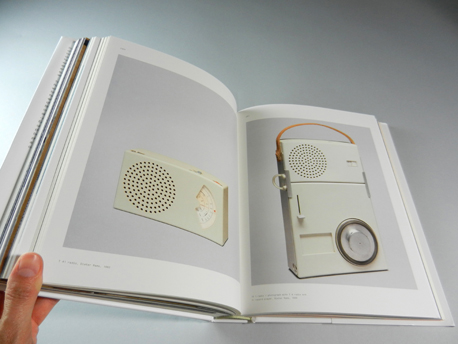 (Image: Dieter Rams: As Little Design as Possible, Phaidon)
From Phaidon's As Little Design as Possible:
"Through his grandfather, Rams developed a lifelong love of honest, simple handmade wooden furniture. 'My grandfather had no machines. He rejected them. He preferred working alone. … He took great care in selecting the wood he used and shaped and planed it by hand. … Needless to say, back then I did not register this consciously, but I adopted it and even today have not given it up. I was always concerned that things should be plain, straightforward. For as long as I can remember that was what I wanted.'"
Both books also stress the collaborative relationship of designer and engineer that Rams so fully embraced.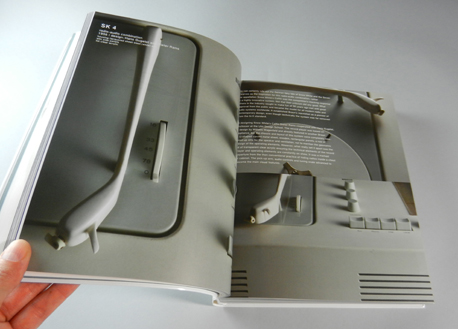 (Image: Less and More: The Design Ethos of Dieter Rams, Gestalten)
"Dieter Rams always clearly distanced himself from the status of an artist and the attendant mindset, preferring to present himself as a 'design engineer.' No doubt strategic considerations prompted this, namely the desire to establish that his status was on a par with the technical engineers at Braun and maintain it over a long period of time. In doing so, he actually enabled the birth of a design culture in an otherwise technology-focused company."

– from Less and More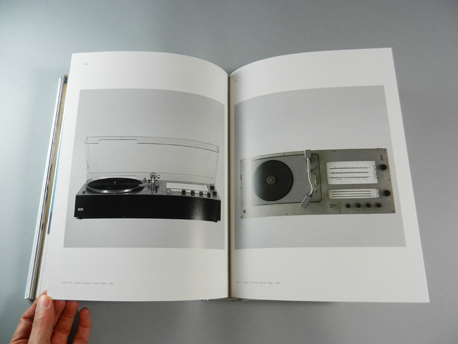 (Image: Dieter Rams: As Little Design as Possible, Phaidon)
"Although the media often tends to conflate 'Braun design' with 'Dieter Rams design,' Rams himself always points out that the appliances created during his time there were the result of teamwork. When authorship is assigned to a particular product it is important to bear this collaborative design approach in mind. … Rams would be the first to say that what constitutes his 'work' as an industrial designer is inseparable from the systems and networks through which it was produced."

– from As Little Design as Possible
The Gestalten title contains a number of essays by various authors, including ones by Sophie Lovell, Klaus Kemp and Friedrich Friedl as well as some brief words from Rams himself:
"We wanted to make products whose appearance did not immediately command attention but instead became more appealing through use and an enduring aesthetic."
The Phaidon title has a foreword by Jonathan Ive and ends with an interesting Klaus Kemp essay on Rams's Legacy:
"Allowing emotional and visual stimuli and the allure of novelty to override any system of ethical values demonstrates, for him, extreme irresponsibility towards the future of the environment and design, not to mention the user. 'In my experience, things which are designed to be different simply to be different are seldom better,' he said … in 1993, 'but that which is better is almost always different.'"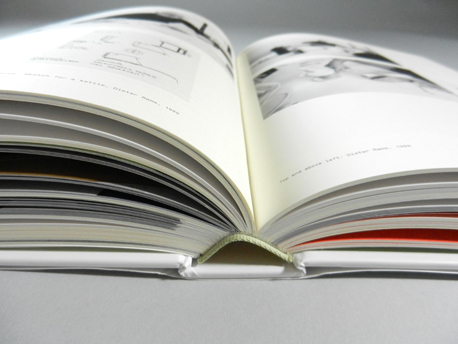 (Image: Dieter Rams: As Little Design as Possible, Phaidon)
If you are something of a minimalist like me, you might prefer the sturdy and simple production values of the Phaidon title over the unusualness and unconventionality of the Gestalten one. On the other hand, if you are like me in that you often find solace in Dieter Rams's work and his aphoristic musings on design, you might just like to have them both!
"Be brave, despite everything!" —Dieter Rams
Less and More: The Design Ethos of Dieter Rams edited by Klaus Klemp and Keiko Ueki-Polet is published by Gestalten. ISBN: 9783899552775.
As Little Design As Possible: The Work of Dieter Rams by Sophie Lovell is published by Phaidon. ISBN: 9780714849188
About the Reviewer
Carolina de Bartolo is a graphic designer and a professor of typography and design history as well as the author of Explorations in Typography: Mastering the Art of Fine Typesetting (A Visual Textbook for Intermediate to Advanced Typography), which we reviewed back in May.
Footnotes