Explorations in Typography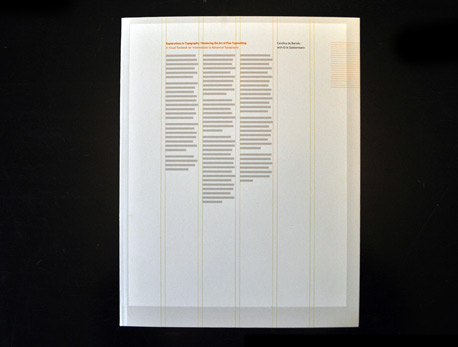 Explorations in Typography: Mastering the Art of Fine Typesetting by Carolina de Bartolo is a marvelous book that explains some of the most commonly used typesetting devices. The book is comprised of 24 different examples of ways to set the same piece of text, the short essay Type Builds Character by Erik Spiekermann (originally published in his 2002 book Stop Stealing Sheep and Find Out How Type Works). Topics that are covered include leading, drop capitals, column widths, margins, tracking, and many more.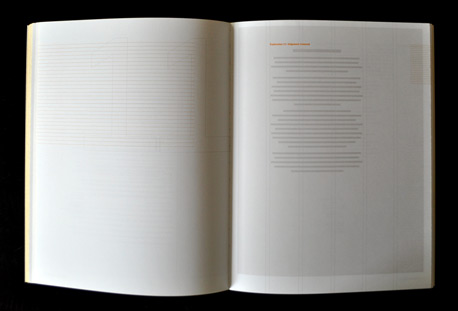 (Click to enlarge)
After poring over the book I had the pleasure of asking the author a few questions about the content and the process of its creation. Carolina is a teacher at the Academy of Art in San Francisco and shared some of her personal experiences with students when I asked her what inspired her to create the book.
"My first inkling of how valuable these Explorations might be happened one day years ago when a student in my own class informed me—in a rather secretive and incredulous manner—that she had a friend in another teacher's class who had not been assigned to do all these exercises. Of course, I was not surprised as I had invented these exercises for my own use but her response was, "But how else would you learn it?!" So, for her, it felt very natural to learn this subject in this way—so natural, in fact, that she could not imagine learning it any other way. "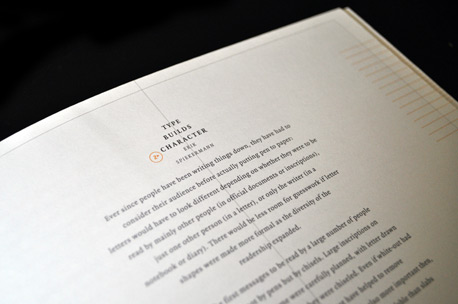 (Click to enlarge)
The book is very well designed and the subtle attention to detail is worthy of the nuances explained in its pages. The production quality is exquisite, the golden yellow edge painting, appropriate proportions and tactile qualities of the pages make it a joy to thumb through.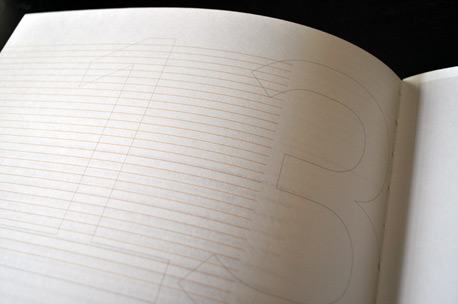 (Click to enlarge)
The examples are set in many different typefaces that cover a wide variety of styles. When asked about the selection process Carolina offered the following insight:
"I chose typefaces that coordinated with the Exploration where it was important to do so. For example, all the centered settings in Exploration 11 were set in classic or classically-inspired serifs. Each sample Exploration page shows at least two faces, at least one for the main typesetting and then one additional complementary face for its type specifications."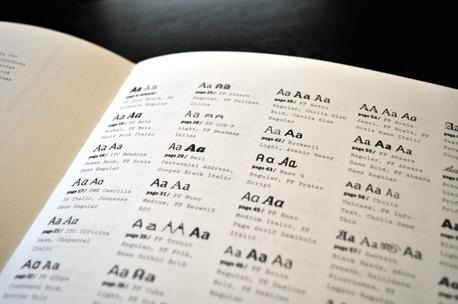 (Click to enlarge)
Each example contains information about the type on the page and the specifications to how it is set, including the typeface names, point size, leading and tracking. While I think that the book is appropriate for all designers, Carolina did mention that it is directed towards the design student:
"The book is aimed primarily at graphic design students, but we hope it will be instructive and inspirational to anyone who sets type, especially text type in paragraphs, no matter whether the final delivery of the text to readers is on paper or on screens."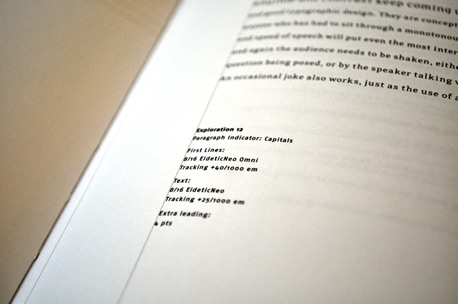 (Click to enlarge)
This book makes a welcome addition to any design bookshelf. After getting to know Carolina a little bit I am already on the edge of my seat, waiting for her next release.
"The original title of the book was Typography and Composition because I had intended to cover both type and grids. Instead I've focused this book on typography and my next book will be on grids."
Explorations in Typography is published by 101 Editions and you can purchase it at www.explorationsintypography.com.
About the Reviewer Dominic Flask is a designer by nature, a teacher by application and a thoughtful companion by friendship. You can find his work here, his thoughts here, and his passion on Design is History.