A Way to Learn to See: The new Interaction of Color iPad app
Reviewed by Carolina de Bartolo
In my 2010 review of Josef Albers's Interaction of Color, I summarized this most excellent volume as "an eternal gift to the world of design." I stand by that statement. I'd now like to add that the new Interaction of Color iPad app is yet another beautiful gift to the world of design. This app is brought to you by Yale University Press, The Josef & Anni Albers Foundation and the NYC design agency, Potion, on the 50th anniversary of the book.
Whether you use it alone or as a companion to the book, this app is both educational and fun. I'm a color freak (geek?) so, of course, I absolutely love it but, I also sincerely believe most designers will too. It brings Albers' text into the digital age in the most appropriate manner, with clarity and elegance. This is not simply a digital book, it also contains videos, including archival video footage of Albers and, most importantly, the ability to interact with 60 of the 125 of the original Albers color studies and to create your own.
You can quickly change from "study" mode (reading the unabridged text) into the fully-interactive experience of "create" mode, where you see how colors interact and change in relation to each other with the swipe of a finger. The user interface is simple and intuitive, yet rich with endless colorful possibilities. Recreate the existing color plates (and you'll learn a lot!) or make your very own brand new studies by dropping your selected colors into the original Albers layouts.
With over 250 swatches of color to choose from and an easy-to-use selection system, you might just find yourself playing with these studies for hours on end. In my earlier book review, I stated that it would be impossible to truly comprehend how "color is the most relative medium in art" until you have had the experience, as I had, of sifting through a packet of Color-Aid® to accomplish Albers' exercises. I can now confidently tell you to put away your scissors and glue because this app has been "designed to reproduce the experience of working with cut and colored paper" so you can learn that very principle without the Color-Aid®. (But we still luv ya, Color-Aid®!)
Teachers of color theory can easily make use of this app in class or as homework. Students can save their color studies, share them on social media, export them to use in Illustrator or Photoshop, or even email them to a teacher. Watch out for the little "undo" button top left though—a single tap on that will erase all the colors from your study. (Adding a warning at that point would be a small but valuable improvement. An accidental deletion of work can ruin the momentum of a student, especially a struggling one.)
Josef Albers told us that experience is the best teacher of color. I'm willing to bet that even if you are an experienced designer, you will learn things about color with this app that you didn't know—maybe even things you didn't know you didn't know. Thelonius Monk said, "You rehearse every time you play your instrument." By the same token, our eyes are always in training. Understanding color is a way to learn to see. One of the very best ways.
Notes: This review is for the full version of the app, which can be accessed via an in-app purchase for $9.99. To learn more about the app, visit: https://yupnet.org/interactionofcolor. The 50th anniversary edition of Interaction of Color is now available as well.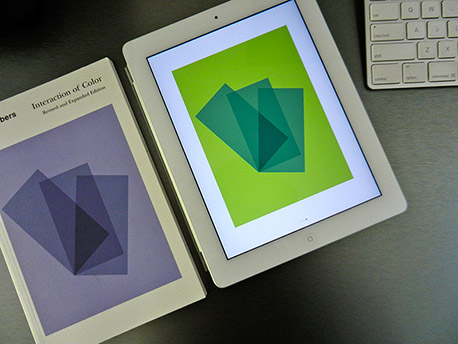 I recreated the purple color study from the cover of the 2006 edition in shades of green.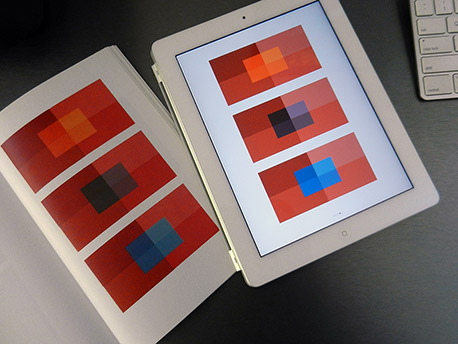 The print to screen translations of the original color studies in the book are quite faithful. The same color principles apply no matter what medium you work in.
About the Reviewer
Carolina de Bartolo is the designer, author and publisher of the award-winning typography textbook, Explorations in Typography: Mastering the Art of Fine Typesetting, which is also available as an interactive digital book inside the book's companion app. Her next publishing adventure is an interactive iPad app that teaches you the principles of color as they apply to typography.