Draw Your Own Fonts: 30 Alphabets to Scribble, Sketch, and Make Your Own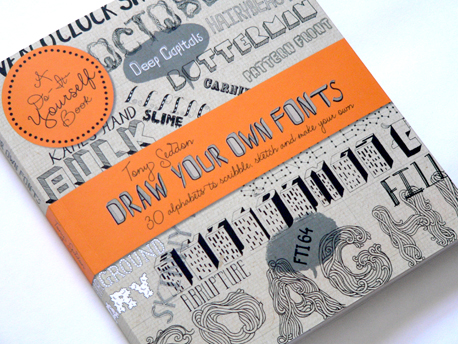 As a graphic designer who can barely draw, I have always envied those who can incorporate hand drawing to make their designs look unique. When I saw Draw Your Own Fonts: 30 Alphabets to Scribble, Sketch and Make Your Own, by Tony Seddon, I was intrigued. Could this teach me to draw my own type?
In our increasingly digital world, technology enables more and more people to produce work that is polished and tasteful. I'm not saying a designer's job is easy, but, as Seddon says,
"Anyone can select a typeface, change the point size, and add some color. However, if you take the same piece of text and hand letter it, it's unique."
The D.I.Y aesthetic is popular now, as more people move away from the mass-produced and embrace craftsmanship. Online marketplace Etsy is selling around $100 million in goods each month, most of them handmade . In graphic design, hand-drawn type can result in a look that is much more expressive. It can range from rough and raw to cute and child-like.
I decided to try it myself.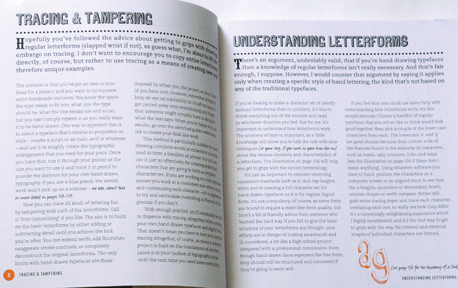 The book is a quick and easy read. There is introductory text on hand lettering, developing a skill set, tracing and tampering, and understanding letterforms. The author offers some good advice:
"If you fail to give the basic structure of your letterforms any thought, your efforts are in danger of looking amateurish and ill-considered, a bit like a high school project compared with a professional commission. Even though hand-drawn faces represent the free form, they should be structured and consistent if they're going to work well."
The bulk of the book is an assortment of handmade fonts for inspiration, with brief descriptions and suggestions for font pairing. Each one is accompanied by a work sheet  where you can sketch your own. As I went along, I traced, sketched, manipulated, and experimented. I'd like to use some of the featured alphabets, like the 3D, squared-off Bulk, and the fun, molecular Science Lesson. I wish there were more fonts that, while handmade, looked simple and elegant. Maybe those are the ones I need to draw. There are several that are too whimsical for my taste. For example, do we really need an entire alphabet where each letter has wings? Useful technical information is included, like ways to digitize your drawings and turn them into an actual font.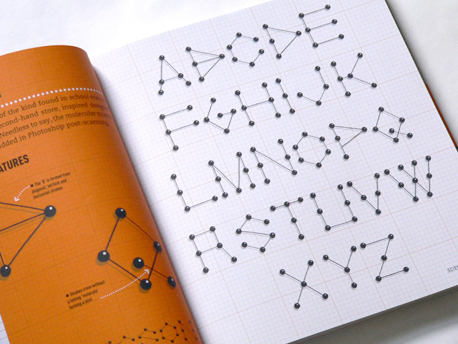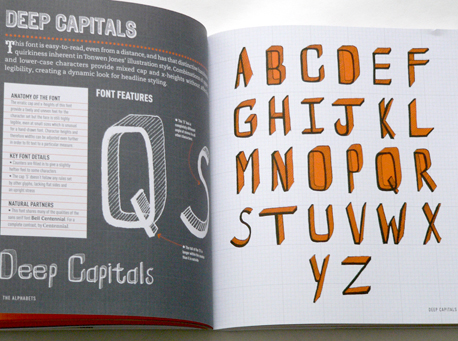 Author Tony Seddon is a graphic designer who also wrote the books Graphic Design for Non-Designers and Thou Shalt not Use Comic Sans. His writing is light and entertaining, and shows a good sense of humor. I'm impressed that he effortlessly references Stevie Wonder's second-most-annoying song,_ Part-Time Lover_ (the first, of course, is_ I Just Called to Say I Love You_) when discussing typography. The book's design is bright and lively, fitting for the subject matter.
How was my hand-drawn font? Not great. But I loved drawing and sketching and making something with my hands. The book has inspired me to draw more, and to explore more ways to bring some warmth and life to my design work. Maybe someday I'll produce a font based on my hand-drawn type.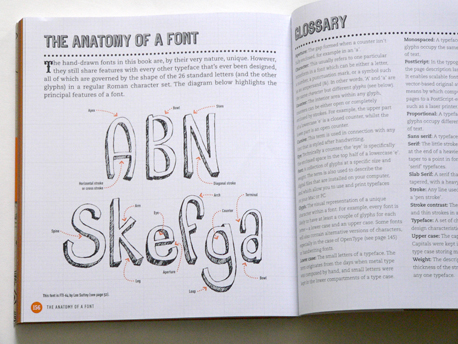 Draw Your Own Fonts: 30 Alphabets to Scribble, Sketch, and Make Your Own, is published by Ivy Press. In the US, Princeton Architectural Press changed the title slightly to Draw Your Own Alphabets: Thirty Fonts to Scribble, Sketch, and Make Your Own. Both are available on Amazon (UK | US).
About the Reviewer
John Clifford is Creative Director at Think Studio, an award-winning graphic design firm in NYC focusing on brand identity, web sites, collateral, packaging, and books. He is also the author of the upcoming book Graphic Icons: Visionaries Who Shaped Modern Graphic Design.