Design Is a Job by Mike Monteiro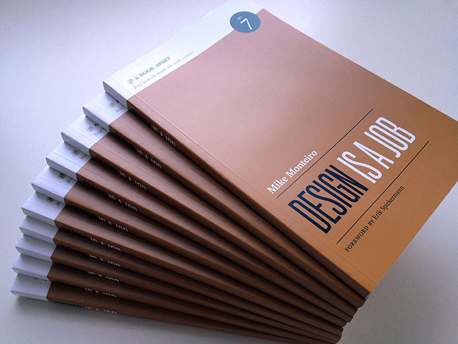 You are not doing design, you are selling design, which is a valuable service. If you don't want to charge for your services, you can pick up Design Is a Hobby on aisle three of Michael's between the balsa wood and yarn.
This quote from Design Is a Job is exactly the type of statement you can expect from someone who describes himself as "Designer, Artist, Assh*le", and who once gave a presentation at San Francisco CreativeMornings called "F*ck You. Pay Me."
Mike Monteiro is also extremely well qualified to write about the job of design. He is the design director of Mule Design, an interactive design studio that he co-founded along with Erika Hall over 10 years ago. He may have "started his career by making logos in thirty minutes for a copy shop in Austin, without prior qualifications", as Erik Spiekermann points out in the book's foreword, but since then he has become a highly successful, professional designer with an impressive client list that includes Yahoo!, The Wall Street Journal and a number of admirable non-profits.
Monteiro is very clear about why he wrote Design Is a Job.
I am tired of you not getting paid. I am tired of you working nights and weekends. I am tired of you doing spec work because someone has convinced you it will look good in your portfolio. I am tired of you sitting by and hoping the work sells itself. So I wrote you a book. It has a spine and by the time you're done reading so will you.
Like all the A Book Apart books, it's short, and Monteiro doesn't waste any time getting to the point. In 137 pages he covers the following: choosing the right clients, charging for your work, working with contracts, sticking to your process, getting your money, and more. You can read the preview chapter on getting clients, online.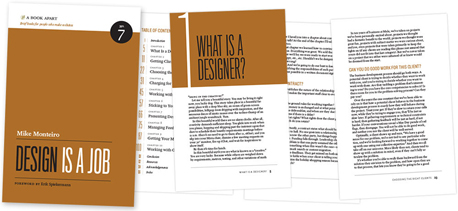 It's also a good read. I ordered it the day it came out, and read it that afternoon. Monteiro has a very direct but warm writing style which makes the book accessible and authentic. He's humble, he knows what he's talking about and he doesn't bullsh*t. It's refreshing.
I've been freelancing for several years and some of the information I had already implemented. Monteiro has an entire chapter on working with contracts. It covers why you should have one, the importance of having a good lawyer, and what contracts should contain. The only thing I can add is that having a great lawyer and a great contract is important for negotiating with clients, because it gives you a lot of confidence in the way you are conducting your business.
Other information can never be stated often enough. Monteiro devotes a chapter to charging for your work.
If you can stand in front of a client completely confident and explain why you are worth the amount you quoted, you should charge it. The problem with designers isn't that they don't know how much to charge; it's that they're afraid to charge it!
The chapter doesn't include any specific rate guidelines, but it's so full of useful information that I could probably just quote this entire chapter. And I can tell you that the first thing I did after reading Design Is a Job is raise my rates.
Possibly the most practical information in the book is on presenting design. Monteiro argues throughout the book that design is a service and that designers, while being qualified professionals that solve problems, are also sales people. A big part of the job is presenting the work to the client.
Stop trying to get your clients to "understand design" and instead show them that you understand what they hired you to do. Explain how the choices you've made lead to a successful project. This isn't magic, it's math. Show your work. Don't hope someone "gets it," and don't blame them if they don't— convince them.
The book doesn't fail to inspire. Monteiro stresses the importance of doing the job of design in a way that is ethical and that you can be proud of. It's one of the things that makes freelancing, or running your own design business so rewarding. Monteiro chooses his clients very carefully. Even though there is always a bottom line to consider, he manages to somehow do what he loves, be well paid for it and leave the world a better place. Design Is a Job is a how-to manual for that life. A must read.
Publisher
Design Is a Job by Mike Monteiro is published by A Book Apart. 137 pages. Available in paperback, ePub, PDF, and mobi
About the Reviewer
Shannon Smith is Web designer and developer and founder of Café Noir Design. You can find her blog at Chroni.ca. She lives and works in Montreal. Google+ | Twitter