Tangible: High Touch Visuals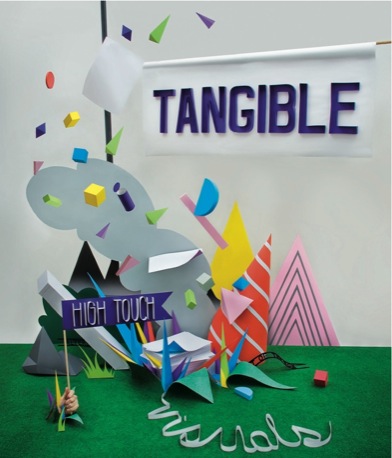 "Remember the small, cheeky, hand-scribbled notes that were reproduced on a photo or poster design? Those with the simple message: "I was here!" Indicating that someone actually worked with the photo and that these are their thoughts." – from the Preface to Tangible: High Touch Visuals.
In such a digitally dominant world, Gestalten's new book, Tangible: High Touch Visuals
, is a reminder of the pleasure of the physical. Tangible is the third in a series of books starting with Hidden Track: How Visual Culture Is Going Places
(2005) and Tactile: High Touch Visuals
(2007) and explores the trend towards designers creating dioramas, sculptures and other physical environments. Naturally, object and interior designers and architects have always worked with three dimensions, but many of us spend an extraordinary amount of time awash in a world of pure pixels.
It is no accident that this movement (re)started in the early 2000s. After the dotcom crash many of my friends and colleagues saw their work simply disappear. Quite apart from turning up to work only to be met by bailiffs padlocking the doors and changing server passwords, many of their clients vanished overnight. The websites they had toiled over vanished with them, sometimes without so much as a screenshot to remember them by.
Whilst kicking their heels in a flooded freelance market, many of them turned to making physical objects, such as vinyl toys
or interactive devices
. Somewhere in the midst of what we can create in the digital world lurks an innate desire to make things that can be touched, smelled and turned in the hand. Russell Davies summed it up well a year ago:
I suspect it's my unconscious telling me that I'm not equipped for the world we're going to be living in. My core skill is probably using PowerPoint to persuade people and businesses to do their advertising slightly differently. That's an increasingly abstract and useless thing. Because, however the future turns out it seems like a knowledge of the thinginess of things is going to be important.
Tangible is a book about those things. It divided into sections covering areas such as hand-built graphic design, extending the human body and public intervention. Not all of the examples fit neatly into these categories and they are fairly loosely applied.
Some of my favourites are in the Out of the Box chapter, which covers hand-built graphic design. Some of them are installations that are either standalone pieces or photographed for use in print. Others are physical interactive works such as Jessica Nebel's Pixel It – a poster with individual flaps that can be pulled down to customize its 'pixels'.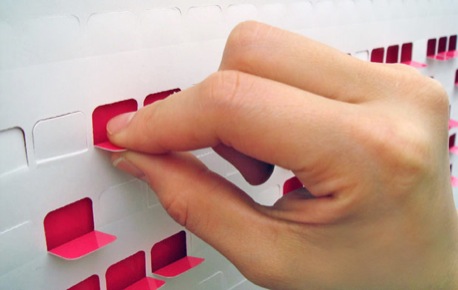 (Jessica Nebel's Pixel It - click to enlarge)
Slinkachu's wonderful Little People works feature in the Imitation and Mimicry section, but could happily sit in the Public Interventions: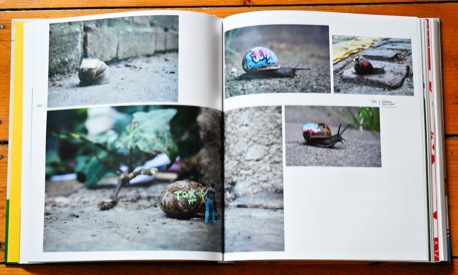 (Slinkachu's Snail Graff – click to enlarge)
On the Altered Identities front, there are some excellent camouflage works by Desiree Palmen and Emma Hack, but I loved the stylishness of Christian Tagliavini's Dame di Cartone series: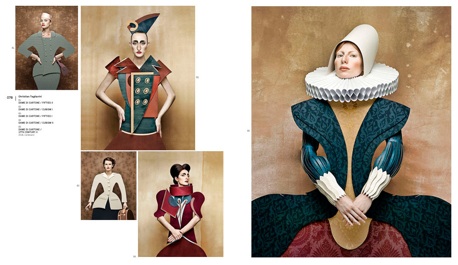 (Dame di Cartone - click to enlarge)
The Spatial Compositions chapter covers works that blur the art/design divide. Many are installations in gallery environments, intended to be interacted with, touched, walk around and upon. Others are also installations to be photographed, easily the best of which are Katrin Schacke's editorial shoots for Stanley magazine.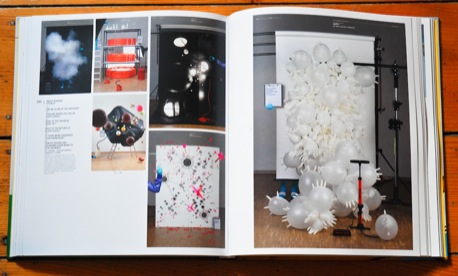 (Katrin Schacke's photography for Stanley - click to enlarge)
Featured in the Public Interventions chapter are works that make you stop, look, stare and sometimes interact. These include the now infamous coin installation Obsessions Make My Life Worse and My Life Better from Stefan Sagmeister and the clever plastic bag animals of Joshua Allen Harris.
The book is typically well-researched, designed and produced by the Gestalten team and it is a great collection of this growing trend. A sense of playfulness is what comes across strongest of all. It is a reminder of how good it is to get your hands dirty once in a while, so stop reading this, get off your computer and go and make something.
Gestalten.tv also has a video interview with Julien Vallée who created the cover and chapter plates for the book.
You can support The Designer's Review of Books by buying Tangible: High Touch Visuals from Amazon.com
, Amazon.co.uk
, Amazon.de
or The Designer's Review of Books store.