The Little Know-It-All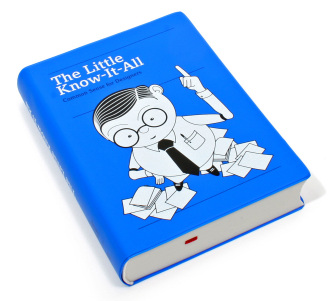 The Little Know-It-All
from Gestalten is either a desk reference or a toilet book, depending on your reading preferences.
With the tag-line of "Common Sense for Designers" it's a book full of all the things you didn't bother to pay attention to in design school and wish you had. Forgotten your colour theory? Can't remember paper sizes? Don't know your flexo from your gravure printing? This is the book for you.
The Little Know-It-All is pretty much aimed at graphic – or perhaps more accurately, visual – designers and is divided into seven main sections: design, typography, digital media, production, marketing, law and organisation. At times the level of details feels unnecessary such as the anatomical cross-section of the eyeball whilst explaining perspective, for example. In other areas it skims over huge subjects – usability gets just under a page.
In fairness to the editors it must have been difficult know what to leave in and what to cut out. Covering the entire design world in 350 pages including notes and index pages can't have been easy.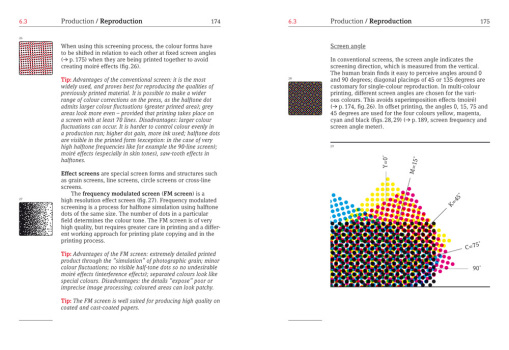 The original, Der kleine Besserwisser
, is in German and there is certainly a very Bauhaus approach underlying the design fundamentals sections. (Incidentally, the book is also available in Spanish as El peque̱o sabelotodo by Index Book). The introductions to the chapters are fairly chatty but the text soon gets into no-nonsense information, in quite a German manner. I quite like this РI live in Germany after all Рbut it might feel a bit austere to some. The upside of these German origins is that the chapter on typography is by ex-Linotype MD, Bruno Steinert.
In terms of production, the book is stitch-bound with a ribbon bookmark and a flexible plastic cover, similar to the pocket dictionaries I remember from school. That means it's not going to fall apart soon and you can spill coffee on it without too much worry.
The sections on planning and organisation will be useful to many non-designers and students. There is a gem of a English proofing error in the Eight Golden Rules of the Planning Process – the first rule says "Plann in adavance" [sic]. Oops! Good job that wasn't in the section on proofing.
The copyright and legal information is as snooze-inducing as it was when I was at college, but it's the kind of thing that is very useful to have at your fingertips when a client relationship is starting to go awry and you need the details. Let's face it, copyright law is important but deeply dull to read. (The legal info is also somewhat European and Germany biased - it would be impossible to cover every country's laws of course).
The digital media section feels a little lightweight, but that's my own discipline area and I suspect everyone will feel their own area of expertise has been skimmed too much.
The question, then, is who, would use this book given the large amount of information just a Google away? The answer is that there three ways to think about this book.
The first is that it is an ideal book for design/design management students and teachers. There is a good first year or so of design school between the covers.
The second is that it's the kind of book a professional would leave on their desk for all the things that are not their specialist discipline. Plenty of web designers occasionally have to do a print or motion graphics job and vice versa. It's been on my desk for a few months and many times I have found it quicker and more pleasant to look up a fact in The Little Know-It-All
instead of Googling around for it.
The third is that it is a book that should live amongst the reading material in the toilet (washroom, if you're feeling sensitive) of any design studio. It is a kind of design equivalent to books like Schott's Original Miscellany
. If you are a toilet reader, you'll be able to impress your workmates with all sorts of design trivia. It will also make a good Christmas present for the designer in your life.
Appropriately enough, a less polite version of "Besserwisser" in German is a "Klugscheisser" or, literally, "clever shitter".
Buy from Amazon.com
, Amazon.co.uk
, Amazon.de or the DRB Store. (You can buy the Spanish version direct from Index Book.)