Take a Line For a Walk: A Creativity Journal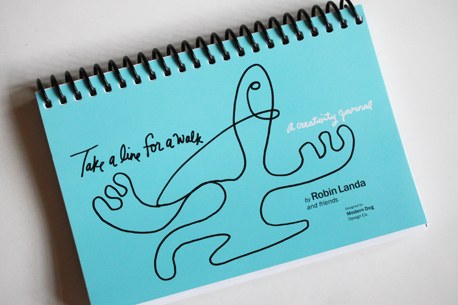 This isn't your typical sketchbook. Robin Landa, Professor of Design at Kean University in New Jersey, collaborated with some of the nation's top creative experts to bring readers a brainstorm session in the form of a journal. Contributors include Rick Valicenti of 3st, Pentagram's Michael Bierut, and design critic Jessica Helfand, among other well-known artists and designers. "Consider this journal your creativity coach or personal exploratory zone sans pressure," Landa writes in the introduction. Seattle's Modern Dog Co. designed the book.
Take a Line for a Walk (available from Amazon: US|UK|DE ) is divided into 103 prompts — mostly blank pages with short directives — and nine longer projects. Landa's intent: to give readers "a space to play in new ways." The idea is that readers will use the prompts and projects to expand their ability to think creatively. Landa writes:
"The more you conceive and sketch, the more your thinking evolves."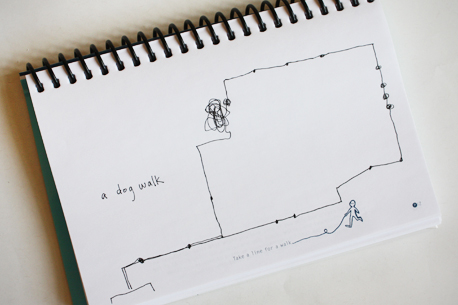 Prompts invite readers to free associate visually or verbally directly in the journal. Some prompts are conceptual, such as the one found on page 14, a contribution by Steven Doloff, Professor of Humanities & Media Studies at Pratt:
"You're an inventor. Your invention is the size of a toaster. What can it do?"
Other prompts ask the reader to explore form making. Jessalyn Lambert, who recently graduated from Kean University with her BFA, gives clear instructions on page 91: "Place a bunch of dots randomly on the paper. Then connect them. What do you see?"
Some prompts are seemingly introspective, yet they relate to the professional experience of the contributing designer. "Describe yourself using only six carefully chosen words," suggests veteran brand identity designer Bart Crosby on page 58, "Then create a single symbol or illustration that represents the combination of all those words."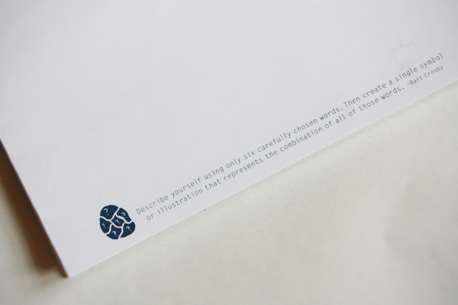 Landa includes a series of projects to complement the prompts. Projects are more involved exercises that demand additional time and materials. Project II, for example, is a contribution by new media artist and Florida State University Professor Gail Rubini: "Collect 10 objects and attach/glue them together in an interesting way."
Project III comes from Pentagram Partner Michael Bierut. He contributed to the book by offering an assignment he gives his graphic design students at Yale University:
"Do a design operation that you are capable of repeating every day for 100 days…The medium is open."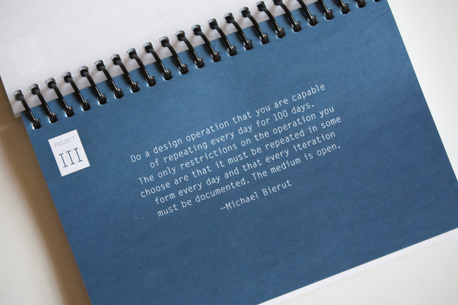 You don't have to be a designer or an artist to enjoy Take a Line for a Walk. Anyone in need of a creative jumpstart may find its pages stimulating. The best part? All you need is a pencil to start playing. No prior experience required.
Publisher Information
Take a Line For a Walk was published by Wadsworth Cengage Learning in July 2011.
You can support The Designer's Review of Books by buying Take a Line For a Walk from Amazon (US|UK|DE ) or The Designer's Review of Books Amazon store.
About the Reviewer
Aggie Toppins is an adjunct faculty member and an MFA candidate in graphic design at the Maryland Institute College of Art. She is passionate about making work that helps people share their stories. Aggie lives in Baltimore with her husband Jason and their basset hound Jolly.