Philip Grushkin: A Designer's Archive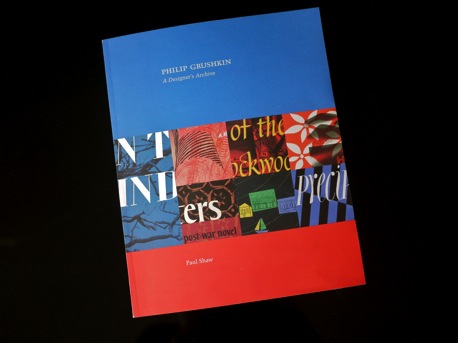 Review by Sophia Angelis
Philip Grushkin, the long-forgotten but latterly-celebrated book jacket designer, was born to Jewish-Russian immigrants in Brooklyn, New York, in 1921. Trained at the Cooper Union, Grushkin studied calligraphy and lettering under the great George Salter before going on to design jackets for many of New York's leading publishing houses. His designs dressed the covers of some of America's most important mid-century titles: The Second Sex, A Tree Grows in Brooklyn, The History of Art. Grushkin died in 1998, leaving behind an archive of approximately 350 finished book jackets, 305 drafts, and 90 mechanicals. It is this rich collection that is the stuff of Paul Shaw's new work, Philip Grushkin: A Designer's Archive (Glenn Horowitz Bookseller Inc., 2014).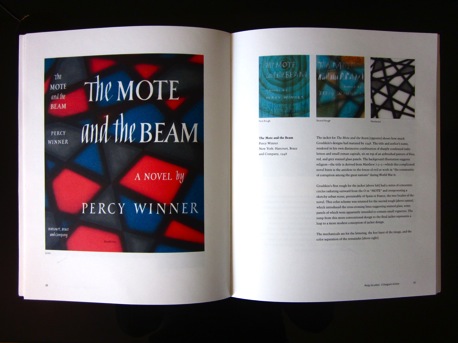 Jacket cover for The Mote and the Beam
Shaw is a brilliant archivist, and deftly marshals a rather unwieldy mass of covers into an account of the designer's creative maturation. A particularly delicate elaboration of the drafting for The Mote and the Beam, for instance, registers the progression of Grushkin's design from an "overpowering" series of concentric circles, in the first draft; to a set of "conventional" provincial vignettes, in the second; before "jumping" in the final version to a pattern of red, blue, and grey panels, which represents "a leap to a more modern conception of jacket design." In addition to situating each jacket design in relation to Grushkin's aesthetic maturation, Shaw also places the covers in dialogue with Grushkin's more influential contemporaries: one cover is a "cross between the styles of Salter and Alvin Lustig"; another violates Salter's rule to "avoi[d] photography in jacket designs," but achieves a "charming success." Shaw's writing (befitting its subject) is housed in a particularly well-constructed book, whose vivid print, elegant type, and page design manage to be both modest and engaging.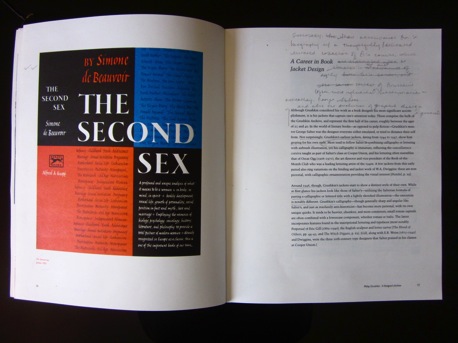 Jacket cover for The Second Sex (pencil notes from the reviewer)
Shaw's heroic curation, however, may be more remarkable than Grushkin's jackets. Grushkin's best designs (which include The Second Sex) are refreshingly modern: simple, bold blocks of color overlaid with simple, bold text. But, more often, Grushkin's modern impulse is compromised by lapses into distracting embellishment. The graphic balance of thin black spirals over solid cobalt on a jacket for The Wayward Angel, for instance, is upset by a blurry airbrushed female figure, floating in spiral relief on the right side of the jacket; the cover for the novel Helix (a title in bold, sans-serif white over a background of coiled red-pink columns), is disrupted by a sketch of a steam boat, which floats to the bottom left in an odd nautical vignette. Curiously, the prints Grushkin made from his private home press in Eaglewood, New Jersey, are far more inventive, balanced, and refined than their counterparts he created for the big publishing houses. Collected in the final chapter of Shaw's book, the produce of the CapGee Press (as Grushkin called his home studio) is rife with stunning complements of careful, moderated type and energetic gesture. A particularly excellent specimen among this collection is Grushkin's own business card, cleanly printed and initialed with a kinetic splatter of glorious ink.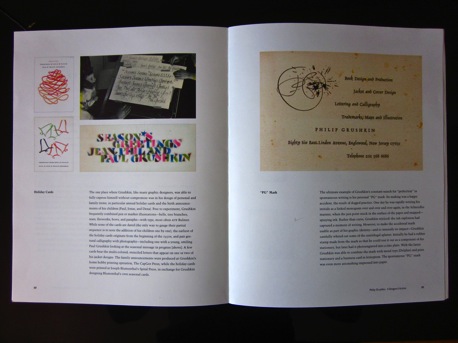 Grushkin's personal business card
That his private work surpasses his jackets in balance and subtlety is, perhaps, a symptom of the historically embattled relationship between art and industry, in which jacket design occupies particularly contested territory. Grushkin came of age as a designer in the late 1940s, during an advertising boom which claimed the book jacket as its reluctant appendage. In 1953, in response to pressures from the publishing industry, the newly-formed Book Jacket Designer's Guild, of which Grushkin was six years a member, resolved itself to a manifesto (a rather thrilling one, even within a generally thrilling genre) which announced, in part:
Rejected was the stunt jacket that screams for your attention and then dares you to guess what the book is about. Rejected was the jacket that is born of the assumption that if the book has a heroine; of if the author is a woman; or the author's mother a female; the jacket must say SEX. Rejected were the burlap backgrounds, the airbrush doilies and similar cliches as well as the all too many good illustrations that were stretched, tortured and mutilated to fit a jacket format with just enough room left for an unrelated title.
It was the Guild's honorable belief, in the words of its chairman, George Salter, that "a jacket has an aesthetical and ethical obligation of the content of the book, and also to the whole breed of books," not to be compromised to the commercial interests of the publisher.
In the years following the Guild's manifesto, the book jacket did, of course, renege frequently on its rather lofty goals (Grushkin himself was guilty of one burlap background in his career). And today, the jacket is its own genre of lament among contemporary authors, whose beloved manuscripts are sent back from publishers in covers splayed across by women's fleshy backs, paper folding fans, and similar such horrors. Indeed, in an industry where each jacket must please all the nay-saying legions of editors, sales reps, and creators before going to press, as one designer recently told The New York Times, "it is getting tougher and tougher to do good work these days."
By illuminating Grushkin's meticulous craftmanship, Shaw's greatest contribution may be restoring dignity to the jacket designer, too often sacrificed to the indignity of advertising. For, whatever his proclivity to sketchy embellishment, Grushkin was nothing if not an intentional artist. The cover of Philip Grushkin, incidentally, is decidedly uninventive and over-modest—but that, we must reluctantly allow, is likely in deference to its rather particular subject.
Philip Grushkin: A Designer's Archive is published by Glenn Horowitz Bookseller Inc. and available on Amazon. Full color; 96 pages; wrappers.
About the Reviewer
Sophia Angelis holds a BA in History and Literature from Harvard College. She lives in Cambridge, Massachusetts, where she works on the research team for MASS Design Group.