Bibliographic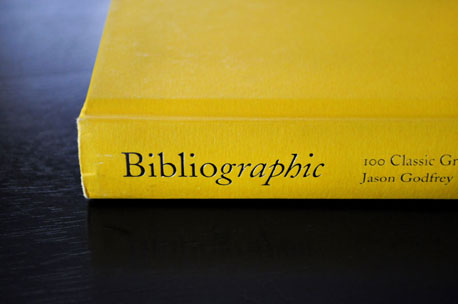 While graphic design does not have as long of a history as some of the other visual mediums, say sculpture or painting, it has certainly come a long way in establishing itself through the work, writings and published thoughts of the designers, typographers, artists and writers involved in its evolution. There have been many books published about the work, ethos and personas associated with the different aspects of graphic design. Bibliographic is a book that chronicles some of the most important of these texts.
As an avid collector of design books, anthologies and monographs my Amazon wish list was quite long before even cracking this book open. By the end, it had nearly doubled in size.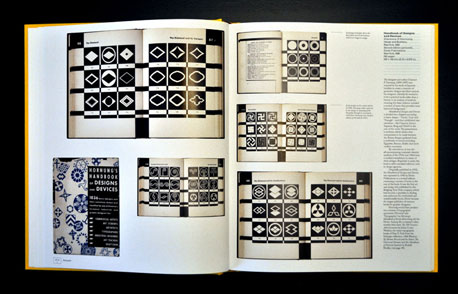 (Click to enlarge)
Written by Jason Godfrey, with a foreward by Steven Heller, Bibliographic is a selection of a total of 100 books that Godfrey feels might be influential to any practicing designer today. In the words of the author:
Bibliographic is a library dedicated to the subject of graphic design. It's not a history of graphic design through its books, and it does not pretend to be the definitive list of 100 books on the subject. Instead, it represents a cross-section of books that would be a welcome addition on any studio's shelves.
Each book is given a full two-page spread showing the cover of the book and several spreads and details from within its pages. Godfrey notes that many of the books are long out of print and that some of the copies that were photographed came from libraries of designers from all over the world. The photography of the book is thoroughly nice and is kept consistent throughout the book, each photo shot from directly above the book, every page perfectly in its place. They are all set on a white background which makes them feel pristine, even if some are a little worse for the wear.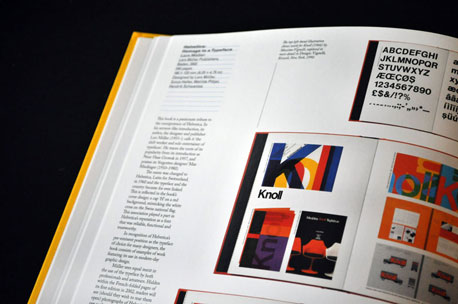 (Click to enlarge)
The margin of one page for every spread, varying between the left and right page depending on the layout of the photos of the book, are where Godfrey places a detailed description of the book, its contents and its author or authors. Special attention is paid to the edition of the book and extra effort is made to list other editions that are currently in publication or that were published after the edition shown. Godfrey does an excellent job of covering a lot of information and giving you a feel for the content in the few short paragraphs he has written for each book .
This book is a passionate tribute to the omnipotence of Helvetica. In his sermon-like introduction, its auther, the designer and publisher Lars Müller (1955–), calls it 'the shift worker and solo entertainer of typefaces'. He traces the roots of its popularity from its introduction as Neue Haas Grotesk in 1957, and praises its 'forgotten designer' Max Miedinger (1910-1980).
The book is divided into six sections, corresponding to the subject matter of the books contained within each section: Typography, Sourcebooks, Instructional, Histories, Anthologies and Monographs. Most sections are about the same size, containing 10-15 books each, except for the section on Monographs which has 36. Each section is separated by a spread featuring a different color and the title of the section.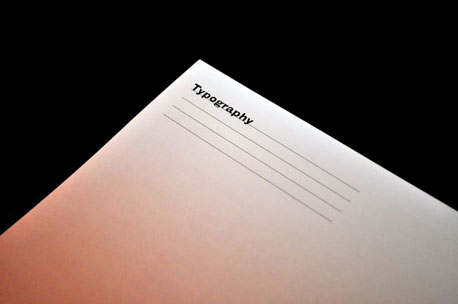 (Click to enlarge)
Intriguing details about each book include information about its binding, end papers and overall production. Often times Godfrey adds notes on how the book was printed and even includes some personal reactions when the production value was either extravagant or somewhat lacking. Each spread contains 2-3 captions to selected photographs which usually relate back to the information provided in the margin. There are even notes about other books that could be resources of information relating to the subject of the featured book.
Finally, contained throughout the book are "Top 10" reading lists from working designers, typographers and writers. Each list contains the book featured on the page the list is printed on as well as 9 others. The contributors include well respected figures in the field of graphic design such as Peter Saville, Matthew Carter, David Hillman and Michael Bierut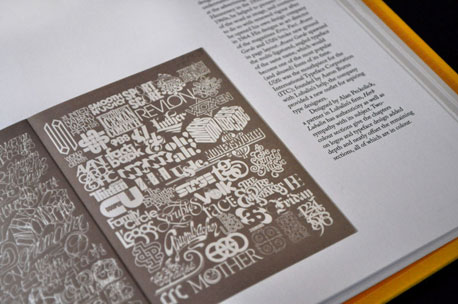 (Click to enlarge)
While there may not be a ton of written information included within the book there are so many jumping off points that it proves to be an excellent reference resource. Many of the books are still in publication in one form or another and a fair chunk of the ones that aren't are easily found for a reasonable price. Their are also a great many that are very hard to find or are first editions, this makes the book a superb chronicling of many books I may never get to actually hold in my lifetime. It is a must-have for all designers, especially students of design who need quick yet massive exposure to the detailed histories they can not be a part of.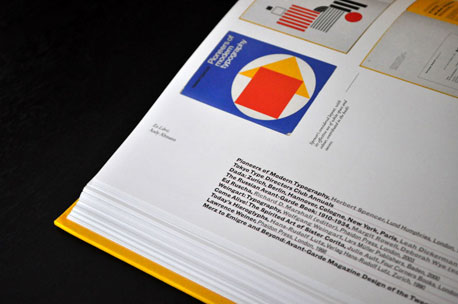 (Click to enlarge)
Bibliographic is published by Laurence King Publishing and is available from Amazon (US|CA|UK|DE).
About the Reviewer Dominic Flask is a designer by nature, a teacher by application and a thoughtful companion by friendship. You can find his work here, his thoughts here, and his passion on Design is History.