The Designful Company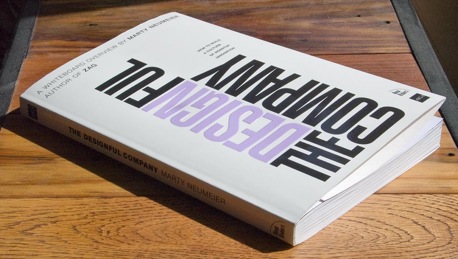 Review by David Sherwin
"If you wanna innovate, you gotta design. – Marty Neumeier
From the airy confines of interior design to the tailored minutae of the type designer, the varied disciplines of our profession continue to rush outwards like galaxies fleeing the Big Bang. And the force that drives our profession's expansion? The universal process we call design.
As designers, we have lived and breathed this process often enough to embody its power, in whatever domain we choose. For a businessperson, however, design is nebulous. A slippery fish. When placed on a slide under the accountant's microscope, design can perish – even in the most progressive corporate culture. And without design, there is no innovation.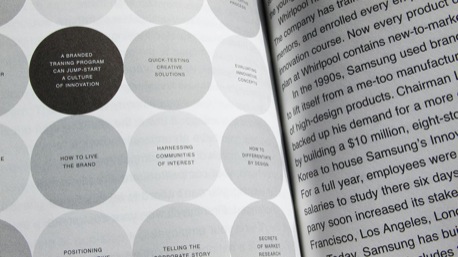 (Click to enlarge)
But do not fear. To the rescue is Marty Neumeier, with The Designful Company (Amazon: US
|CA
| UK
|DE). Much like Mr. Neumeier's other bestsellers, The Brand Gap
and Zag
, his new whiteboard overview is set to completely reinvigorate how our profession engages executives in the boardroom. Finally, we have a shared vocabulary that marries aesthetics to business – and from a book with such simplicity, elegance, and verve, it's downright humbling.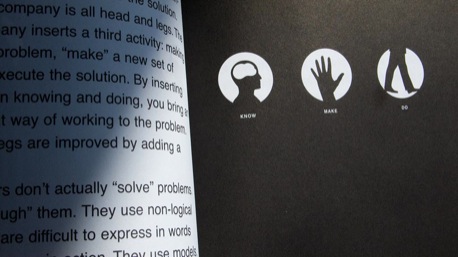 (Click to enlarge)
The premise of the book is founded upon one of my favorite subjects, wicked problems:
"…problems so persistent, pervasive, or slippery that they seem insoluble. Unlike the relatively tame problems found in math, chess, or cost accounting, wicked problems tend to shift disconcertingly with every attempt to solve them. Moreover, the solutions are never right or wrong, just better or worse… In the world of business, managers face a subset of these problems: breakneck change, omniscient customers, balkanized markets, rapacious shareholders, traitorous employees, regulatory headlocks, and pricing pressure from desperate global competitors with little to lose and everything to gain."
Wicked problems now completely govern the world of business and commerce. You can't combat these problems in a traditional, Six Sigma-esque manner. Solving these problems requires replacing "the win-lose nature of the assembly line with the win-win nature of the network."
This network is powered by considerations of human need. In order to accomplish this, you need to raise an executive's view and application of design from the world of aesthetics – posters and toasters – "to include "processes, systems, and organizations." A powerful byproduct of embedding design within a corporation is increased agility, which helps businesses to create change instead of reacting to change. Or, in Marty's words:
"A company can't 'will' itself to be agile… To count agility as a core competence, you have to embed it into the culture… It's one thing to inject a company WITH inventiveness. It's another thing to build a company ON inventiveness. To organize for agility, your company needs to develop a 'designful mind.'"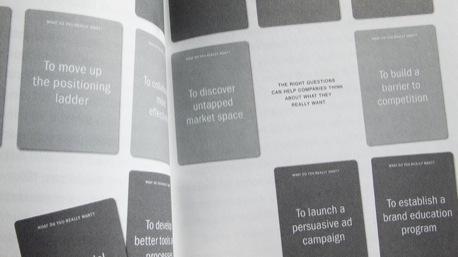 (Click to enlarge)
Demonstrating ways in which design can be factored into corporate governance is the core argument of his book, which he unpacks elegantly across 180 well-designed pages. In simple language, he provides simple descriptions of such complex topics as: the value of using abductive logic as part of a design process versus the use of strictly rational thought; the importance of design making to inform business decision-making; how design thinking can permeate every level of a firm's corporate ladder; and an intriguing chart that aligns aesthetic principles such as scale, proportion, pattern, and repetition with considerations of business strategy and organizational structure. The latter, with its fusion of art and business considerations, has been long-needed and will immediately enrich any designer's vocabulary.
The last third of the book is devoted to what Marty calls "levers for change." Most savvy designers will recognize many of these tactics, which are regularly employed in design and innovation firms with varying degrees of effect. However, for a C-level executive that is behind the innovation curve, these tactics may be downright revolutionary.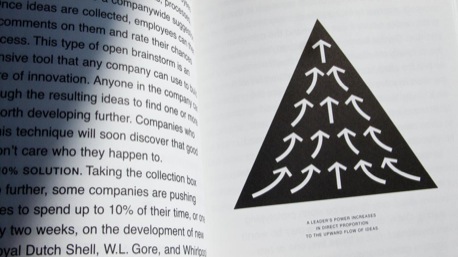 (Click to enlarge)
Take, for example, "Lever 2: Weave a Rich Story." Every action that someone takes within your company is part of the overall story that you're telling to your customers and to your coworkers. But Marty wants you to think of the meta-story for any organization:
"While revolution must be led from the top, it rarely starts at the top. The spirit of revolution already exists in the hearts and minds of motivated employees and loyal customers. It shows up in the individual stories that employees tell about the work they do. And it shows up in the individual stories that customers tell about the products they love. Often a leader need only act as a kind of managing editor, shaping the stories to align with a shared vision. To make the best use of this lever, all the little stories you tell about your company and its products should add up to one big story."
To be effective, designers must be storytellers through their work, but our clients must be the stewards and owners of that story. In the end, it's always their story to tell. And if companies better understand how to apply the power of design, they can better manifest that story and delight their customers across every touch point of the customer experience.
Sounds easy, right? Being that mindful about how your company behaves can be quite difficult to manage… that is, without the power of design. Marty uses JetBlue as a case study that describes in detail how this can be accomplished.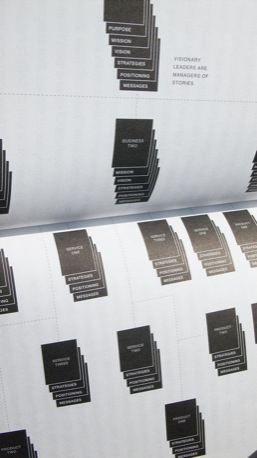 (Click to enlarge)
Another notable lever is "Lever 9, Sanction Spitballing," in which Marty describes ways to encourage more ideas from more employees from within your company to fuel the engine of innovation. However, my favorite lever is the one that closes the book: "Reward with Wicked Problems."
"While most employees appreciate public acclaim and the occasional monetary award, the highest achievers want something more. They want bigger problems. They want an opportunity to tackle mean, hairy challenges and make a significant contribution to the company."
Taking such a corporate stance takes guts, because if you're tackling a wicked problem, you're going to spend a lot of time wrestling with change. But as Marty says at the close of the book, "Change is power. Design is change." Being able to be the maelstrom instead of stand within the maelstrom is going to separate successful enterprises from major corporate failures in the upcoming years.
In the back of the book, Marty includes a comprehensive reading list, a sound-bite summary of the most delicious details from across the book, and a list of the top ten wicked problems facing today's businesses – as well as wicked solutions that could begin to untangle the mess that we call today's marketplace.
If you're looking for one book to hand to your design client that will move their consideration of design to a higher level, this is it. And it's almost a shame that this book is filed away in the management section at your local bookstore – because every strategy-minded designer should own it as well.
You can find The Designful Company on Amazon (US
|CA
|UK
|DE) or The Designer's Review of Books store.
About the Reviewer
David Sherwin is Sr. Art Director, UX Strategy at Worktank in Seattle, Washington. He maintains the blog ChangeOrder: Business + Process of Design and is writing a book about concepting for HOW Design Press due to be released in November 2010.