This Rimy River: Vaughn Oliver and Graphic Works 1988-94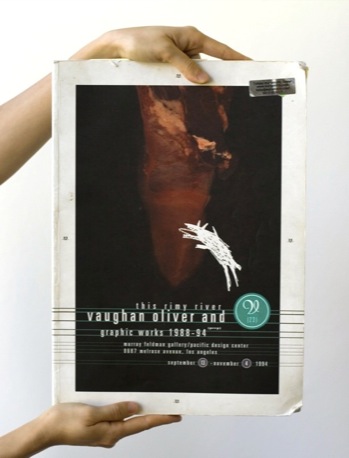 Guest review by Tobias Grime
This Rimy River: Vaughn Oliver and Graphic Works 1988-94
is probably the most worn out and dog-eared design book I have. And for good reason – since it was published in 1994, it has felt as visually fresh as the day it was produced.
Not a standard 'design' book, This Rimy River is actually an elaborate gallery catalogue to Vaughn Oliver's show at the Pacific Design Center in Los Angeles in 1994 with the catalogue not only made for the show, but also serving as a unique snapshot of Oliver's work in the period 1988 - 1994 when he went freelance and started the 'v23' freelance moniker.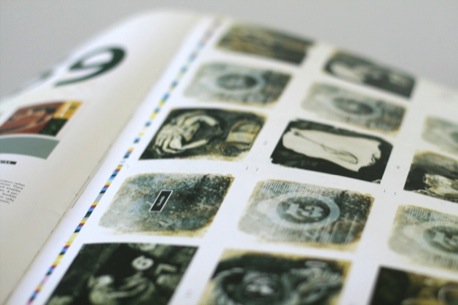 (Click to enlarge)
On opening the book, the first thing you notice with the spreads is the obvious 'designed' layout of the presentation of the content – CD artwork, LP album artwork, posters, etc.
Now this can be one of the major downfalls of many design books. Some of the most gloriously designed content can be ruined with a fussy, over-designed layout where the layout becomes the design and the content is lost. Sometimes it is better to get the team that designs the telephone directory to do the layout. At least you'll know where to look.
In contrast, Oliver's 2000 publication Vaughan Oliver: Visceral Pleasures
– edited by none other than Rick Poynor – has a much more straightforward and classical approach, although as a 'life's work' retrospective, its intent is quite different.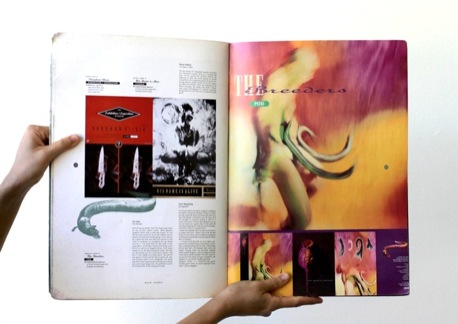 (Click to enlarge)
Where This Rimy River succeeds really is in the layout, which is at all times pleasing and easy to follow. The ultimate goal of this layout, one would assume, is to capture in a curatorial manner some of the feel of the actual physical gallery show, which only existed in one place at one time. What prevents the content/layout confusion is the fact that Oliver also designed the book himself. So, really, this 'designed layout' does serve as an extension of the content, and brilliantly so.
Those not familiar with Vaughn Oliver's work would certainly have come across it in some form or another without knowing the author. For me, it was the multitudes of glorious 4AD record covers Oliver designed, gracing the albums of bands like The Cocteau Twins, This Mortal Coil and The Pixies to name just the more popular ones. (I remember getting quite upset when 4AD started to produce more CD-based releases and I had to look at Oliver's work on a smaller, CD format rather than the more luxurious LP-sized covers with all their beautiful metallics and overprints).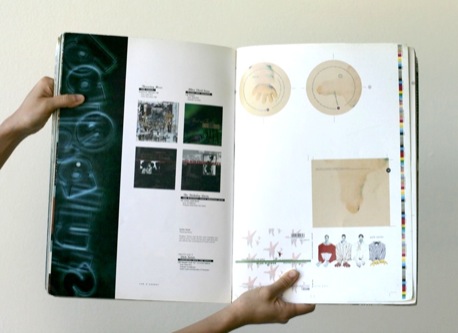 (Click to enlarge)
Scattered throughout the book are notes by his collaborators, band members, artists, peers and all manner of people who have, in some way come in contact with Oliver's work. These little editorials help shape Oliver's world for the reader and bring alternative insights into his graphic mind.
Where Oliver has succeeded as a visionary is in his amazing balance and almost timeless feel to much of his work. He is a classic graphic designer in every aspect of colour sense, typography, layout, art direction, concept and, at times, humor.
What makes Oliver so interesting is his place in history. He is very much born of the pre-digital design era and this is reflected strongly in his work as a visual subtext.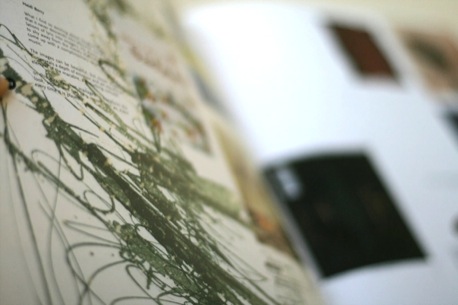 (Click to enlarge)
There are vivid ideas, concepts and emotions running through his work, combining the use of exquisite photography and illustrative calligraphic techniques. What you won't find is light and vacuous abuse of modern day design software and clichés. He takes his craft seriously with intense attention to detail and injects passion into it. There is always a warmth and naturalness to the work. Nothing clinical and unsavoury dares rear its head here.
Much of the music that his wonderful designs adorn is still cherished today – bands like The Pixies and The Cocteau Twins remain as fresh now as they did even in their first releases and continue to influence new generations of music makers, much in the way the cover art continues to influence and shape contemporary visual design today.
Modern day designers take note.
Buy This Rimy River from Amazon.com
, Amazon.co.uk
, Amazon.de
or The Designer's Review of Books store.
About the reviewer
Tobias Kazumichi Grime is a sound & visual artist living in Sydney,Australia exploring the fields of experimental sound and its performance and produces video art and sound design for arts projects. He also works as a senior designer at visual effects supremos, Animal Logic.