For The Love of Vinyl: The Album Art of Hipgnosis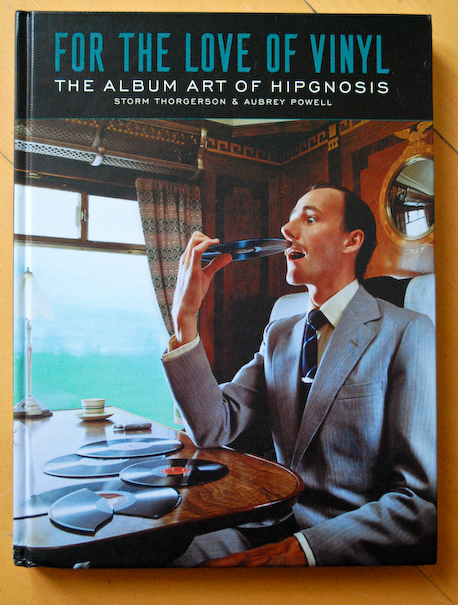 For the Love of Vinyl: The Album Art of Hipgnosis
by Storm Thorgerson and Aubrey Powell is quite simply the most engaging and entertaining design book I have read all year. But I am getting ahead of myself. To understand why this book hits all the right sweet spots, we have to travel back in time.
Like many, my first really conscious contact with graphic design was via record covers. My older brother was into Led Zeppelin, Genesis and Peter Gabriel. My father, a graphic designer with his own studio in Percy Street in London in those days, had plenty of Pink Floyd and the like in his record collection.
Perhaps because he was a graphic designer, my dad also had an excellent book called The Album Cover Album
by Storm Thorgerson and Roger Dean. I spent many hours leafing through the pages and countless more staring at the details of the actual albums whilst trying to understand the lyrics of the songs I was listening to.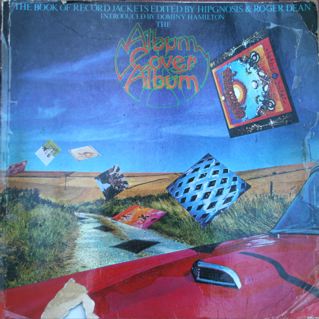 My father's very battered copy of The Album Cover Album
I am a child of the 70s and thus my angst-ridden teenage years were the 80s when the music video usurped the album cover as the marketing vehicle of choice. The cover artwork of the 80s by Malcolm Garrett and Peter Saville usually gets the attention in design histories, but it was Hipgnosis, the design studio run by Storm Thorgerson, Aubrey 'Po' Powell and later Peter Christopherson, that jettisoned album cover art out of the usual fare of band mugshots to something far more epic. Their work has influenced design and advertising ever since. They were masters of The Big Idea and For the Love of Vinyl: The Album Art of Hipgnosis
tells their story.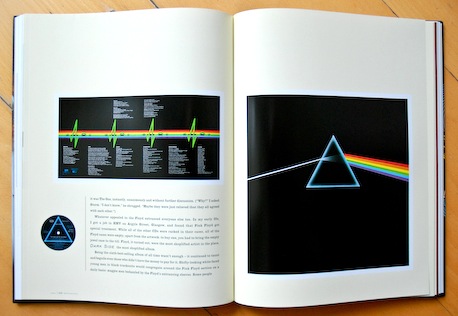 (Click to enlarge)
Almost every major band in the 60s and 70s - Pink Floyd, Led Zeppelin, Genesis, 10cc, Peter Gabriel, Black Sabbath, Paul McCartney, to name a few - had an album cover or series of covers designed by Hipgnosis. Their often surreal and photographic style has left a lasting visual imprint on musical and visual culture.
It is impossible to think of Pink Floyd's Dark Side Of The Moon
album without thinking of Hipgnosis's black cover with a prism refracting light. Or Led Zeppelin's Houses of the Holy
without seeing the monumental image of the naked children climbing up the Giant's Causeway (an image Thorgerson is constantly told they would "never get away with now").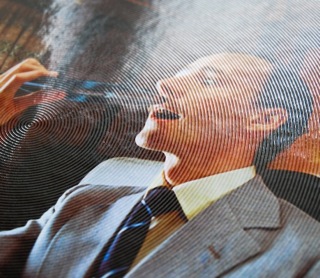 The book, published by PictureBox, is designed by Thorgerson and Powell and highlights their favourite projects, although in the back is a catalogue of (nearly) all their covers, some of which are labelled with a turkey and are, naturally, not featured. The hardback book covers are cleverly spot varnished with the concentric rings of record groove and the whole thing is a beautiful 9.25" x 12.25", 224-page tome.
Rather than presenting the covers chronologically, Thorgerson and Powell decided to put it together as one would an album by choosing the best 'running order'. Starting with and introduction by the pair and an insightful essay, Optical Believability, by Adrian Shaughnessy
the rest of the book is divided into Side One and Side Two (see what they did there?). Sandwiched in the middle is another set of engaging essays from Nick Mason, Jonathan Ellery, Scott Rowley, Graham Gouldman, Peter Blake and Paula Sher.
Each selected album cover contains two commentaries, one by Thorgerson and the other by Powell. They are both highly amusing raconteurs and they have a kind of page-delayed conversation throughout the book. Every cover has some kind anecdote from those heady days in London's Denmark Street in the 60s and 70s as well as the adventures they had whilst travelling for their work.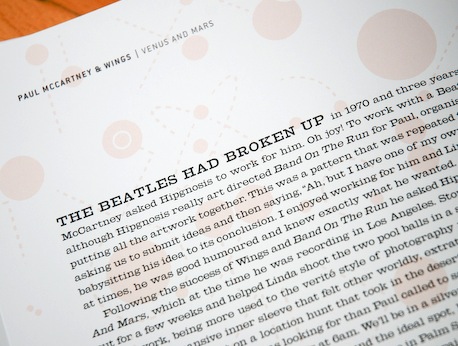 From nearly getting stranded in a desert town in Morocco to the scary and sometimes sad encounters with artists like Syd Barrett, Led Zeppelin and Black Sabbath, For the Love of Vinyl is like sitting down with Thorgerson and Powell after dinner and a few bottles of wine and letting them entertain you.
But the book is not just a collection of funny stories from those vibrant decades and it would diminish the creative value of it to label it so. What is striking is that the pair can clearly (most of the time) remember and articulate their creative vision for every cover and their process for realising it in those pre-digital days. As Powell writes:
"Before the days of Photoshop, when there was still steam radio and rubber band aeroplanes, Hipgnosis were the masters of scissors and glue. We made montages and were famous or possibly infamous for them. The advantage of the montage, providing that you had all the perspectives in alignment, was that you could create something the human eye couldn't."
These days, when one can trawl Flickr via Compfight and put the power of Photoshop or 3D to work, it can be easy to underestimate what an undertaking some of the covers were. Hipgnosis used photography because that was what they knew and their "severe inability to draw". If they wanted a shot of hundreds of red footballs trailing off over sand dunes in the Sahara, they had to go there, set it up and shoot it.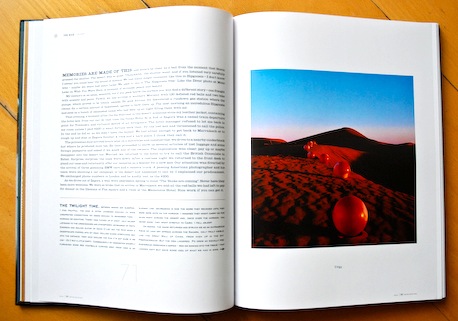 (Click to enlarge)
The fact that they were not trained as designers, but as filmmakers was what gave them their vision, argues Shaughnessy in his essay:
"[I]t was this background that enabled them to think on a far grander scale than most graphic designers. It gave them the cinematic vision to conceive of ideas that few graphic designers would have had the training, imagination or nerve to produce."
A large part of what makes this book so exciting, engaging and endearing are the honest accounts of all the near-misses, outright failures, insecurities and chancing that go along with the creative success that Hipgnosis had. Powell describes presenting the cover of Technical Ecstasy
to Black Sabbath:
"Just as I thought celebratory congratulations were in order and was about to gush away on how groovy it was all going to look, all hell broke loose. I think it was Ozzy who first shouted something at the others which began with, 'What the fuckin' 'ell did you fuckin' think you were doing?' Immediately a free for all began with everyone screaming and swearing abuse at each other at the same time. A rock 'n' roll Tourette's contest of sorts. I looked desperately at Earnest Chapman for a way out. He ushered me through a side door. 'I think it all went very well considering, don't you?' he said."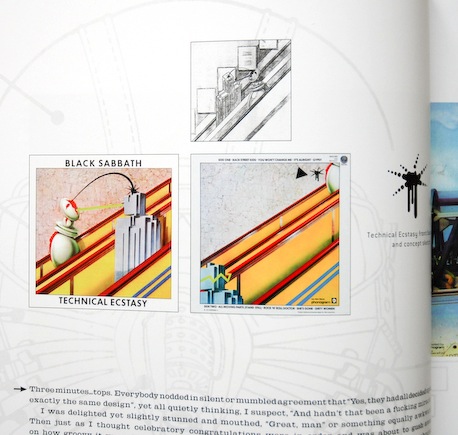 This kind of honesty only comes from those who have been there, done it all and know themselves well enough that they no longer have anything to prove by re-touching their own history.
Music and design have always made good bedfellows and art directors and creatives all over the world have turned to the striking imagery of Hipgnosis's album covers to fuel their own inspiration. Older designers will love this book both for the memories of the albums and the pre-digital design days as well as a time before marketing became such a dominant, controlling force in music. Younger designers should read this book to re-learn the art of the concept as a creative driving force.
The only downside of For the Love of Vinyl is that I could not stop reading it, which prevented me doing any of my other work for days. It is a small price to pay.
If you are going home for Christmas, get a copy of this book, raid your or your parent's record collection and spend an afternoon with Hipgnosis and the bands they helped to make into the legends they are today.
(the DRB rating system only goes up to five, but this one should really go up to eleven.)
Buy For the Love of Vinyl: The Album Art of Hipgnosis from Amazon.com
, Amazon.co.uk
, Amazon.de
or The Designer's Review of Books store.
(We will be reviewing another title from Picturebox called Overspray: Riding High with the Kings of Californian Airbrush Art in the near future.)