Jon Burgerman - Pens Are My Friends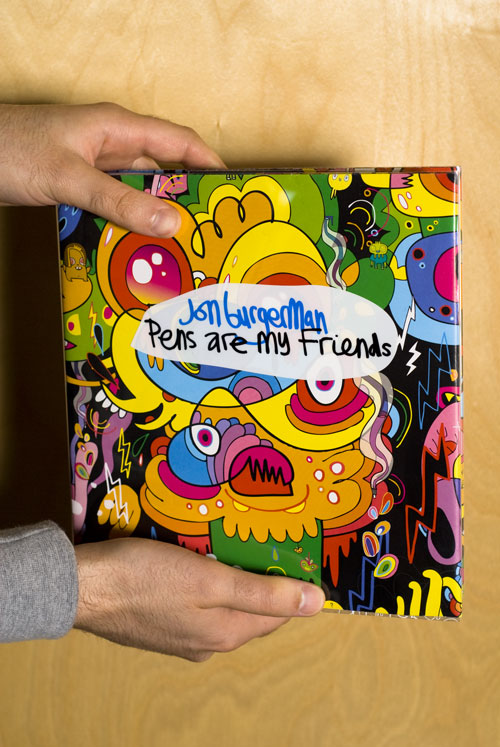 Three years ago I interviewed Jon Burgerman after I stumbled across his web site and was immediately sucked into his bizarre world of characters. Like quite a few illustrators and animators I know, Burgerman appears to have an inexhaustible supply of oddities inside his head and an equally unstoppable urge to draw them. Everywhere.
Burgerman's new book, Pens Are My Friends, is a typically sumptuous production from IdN. The hardcover's inner dust jacket is actually a wrapped up poster of Burgerman's drawings with a transparent plastic outer dust jacket to protect it all.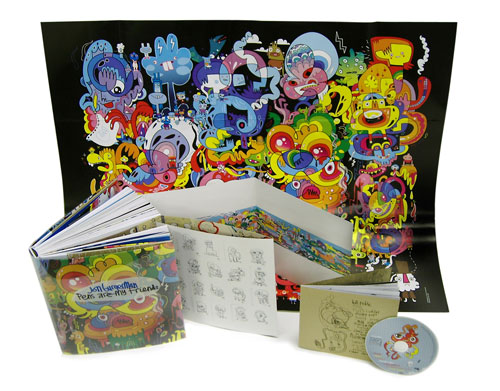 Inside there are plenty of multi-page fold-outs that show off his graffiti wall projects really well and tucked inside the back cover is a DVD with several documentaries, animations, short clips and a mix of computer goodies such as icon sets and wallpapers.
"Doodling" seems too trivial a word for what Burgerman does. There are elements of doodling, or drawing without paying conscious attention to the drawing, but with more refinement. It seems to me to be more like a process akin to improvising music in which you have some underlying structure but the output is relatively free-form. On one of the DVD documentaries Burgerman is filling an entire room with drawings and describes his process:
"You keep drawing and somewhere along the way you slip into another state of drawing and thinking. You're not really thinking and you're not really thinking of drawing, but you are drawing and then what you are drawing is what you are thinking, so it's revealed to you at the same time. And that's a weird state to get into, but that's quite interesting because you can create work that you weren't really expecting."
My initial thoughts were that this was just going to be another monograph of pictures, without much explanation, but those were quickly put to rest. Two introductory essays – one by Modart Editor, Harlan Levey and the other by Pictoplasma's Peter Thaler and Lars Denicke – place Burgerman's work in the broader context, not just of illustration and animation, but also the art world.
The two texts are fittingly more 'serious' introductions to Burgerman's own entertaining and usually irreverent captions. "I don't have much else to write," he says in the foreword, "I wrote all the of the captions and that took ages and now I'm all typed-out and in need of a nap."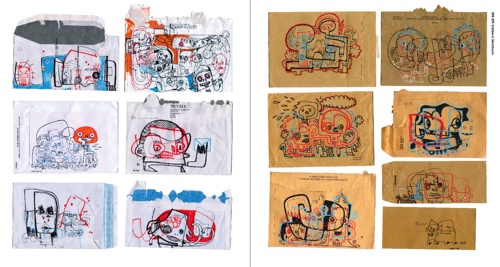 I have always been a sucker for seeing less polished work from artists. I love seeing the sketchbooks, the roughs, because you get much more of a sense of the way they think. On the accompanying DVD there are several fascinating short clips of him drawing. They're also depressingly impressive – his line is very bold and clean. I had always imagined he drew much slower (I would have to). Several pages of the book are devoted to drawings he has made on envelopes, napkins and Post-It notes and, dammit, they're all just as good.
My only minor gripe with the book is that there are no dates alongside the works. Although some of the exhibitions have dates and there is an implied sense of chronology from the ordering in the book, it is hard to tell any progression of his style and approach over time, which I would have liked to have seen.
If you are a fan of this kind of work, which crosses over from illustration/animation to art to doodling to graffiti and back again, Pens Are My Friends is packed to the gills with the best of Burgerman's work. And as an added bonus, the last chapter are photos of "Meals I Have Made". Food is, clearly, another obsession.
Food and drawing, what else does an illustrator called Burgerman need?
Buy from Amazon.com
, Amazon.co.uk
, Amazon.de
or The Designers Review of Books Store.