geometric from Kapitza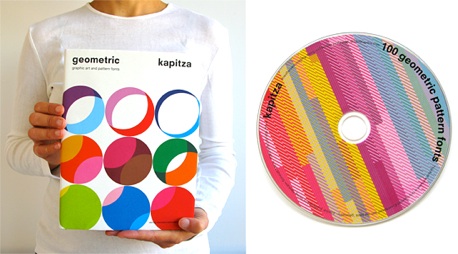 [Update: Abduzeedo are giving away a copy of Geometric to the person who leaves the best comment on their site.]
If you are thinking of designing and printing your own uber cool Christmas wrapping paper, look no further.
geometric: graphic art and pattern fonts by Kapitza
is, as the title suggests, both a book and a set of over 100 accompanying OpenType pattern fonts by London-based Studio Kapitza, published by Verlag Hermann Schmidt Mainz.
It is a simple idea done very well. Having first experimented with stripes, Nicole and Petra Kapitza went further and developed an entire series of shapes that can be combined and overlaid to form an endless amount of patterns.
Different 'letters' are different weights and angles of each pattern and by simply adjusting kerning and leading, you can create different variations. For example, you might use four Rs in a row to create a basic pattern and then overlap them via tight kerning. What works really well is that you can simply try out new patterns by switching to another font or point size. Layering is naturally a case of duplication and then more tweaking.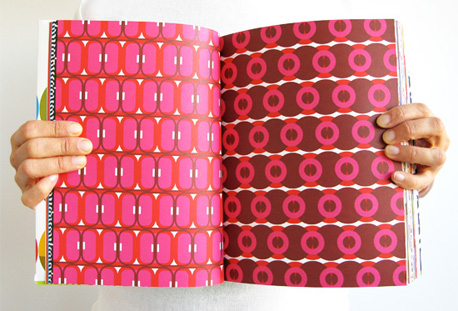 Of course, you could do all this by hand in Illustrator and take ages with its lame step-and-repeat features (or lack of - Transform, Move and check Copy? Pfft!), but the geometric font library makes it a lot easier.
I recommend using something like Linotype's FontExplorerX so that you can really see what's going on. Linotype have just released a Beta of the Windows version and, as OpenType, the fonts swing both ways, Mac and PC. I rather enjoyed the surprise of randomly trying out key combinations, however, because it led to a few creative surprises.
I have to mention the obvious effort that went into the icons for the font folders on the CD too - they show what's inside them, are very cute and show nice attention to detail: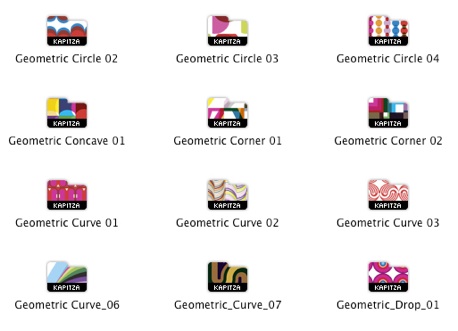 The book itself ("printed in Germany with love") has plenty of examples of patterns, which might be of interest in and of themselves, especially if you have a penchant for Neo-Sixties patterns and Op Art, but most of the fonts are basic enough shapes to do what you want with and there are plenty of more contemporary examples.
The preface and the interview are in German - Nicole and Petra are German, but "find London much more inspiring that other cities", which may be true, but I like living in Germany having lived in London long enough. The rest of the book is dual language English and German and in the last section are a set of tutorials to get you started making patterns, but my guess is that you'll want to explore yourself having got the idea.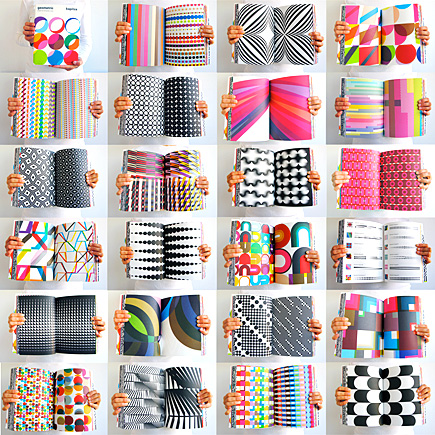 An area that isn't mentioned in the book, but that these would probably be wonderful for, is pulling these fonts into an application like After Effects or Motion and animating them to nurture your inner Saul Bass motion graphics lust.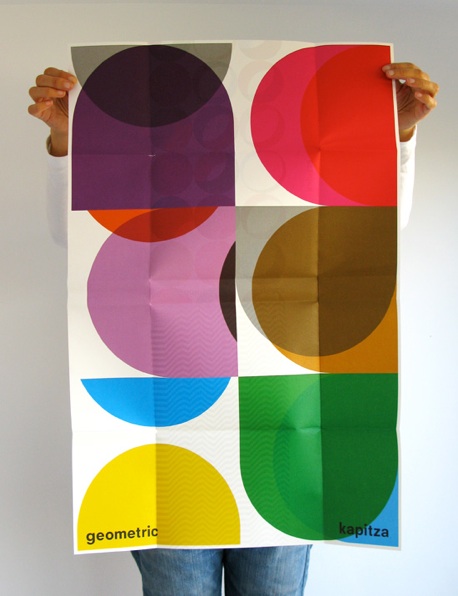 This is a book that isn't going to be to every designer's taste or style and may depend on the kind of work you do, although I could see it being put to use on everything from logos to t-shirts to animations.There's not a lot to read, but then that's not the point. At €68 or £55 you have to remember you are not just getting a book, but a huge library of pattern fonts, which is a pretty good deal.
It's a nice object – the dust-jacket is a poster too, if you're willing to let your book go naked – and it feels like the kind of book and set of fonts that are handy to have around, because you never know what the next client will ask for.
(Update: I just remembered the online fabric printing service, Spoonflower.com, for which these would be perfect. Spoonflower is like MOO cards for fabric).
You can buy Geometric from Amazon.de
or direct from Kapitza or Verlag Hermann Schmidt Mainz.
(It doesn't appear to be in the Amazon.com or Amazon.co.uk stores yet, but if and when it is, I'll list it in the Designer's Review of Books store - or you can be the cool Euro-trendy kid on the block have it shipped).