Cause and Effect: Visualizing Sustainability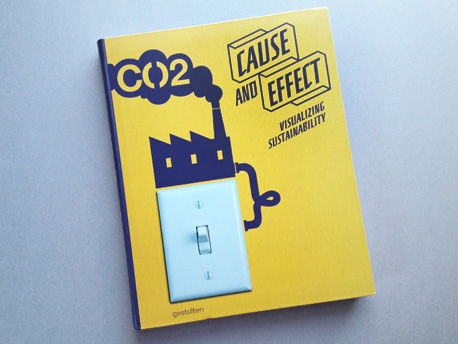 Lester Brown, an American environmental analyst and founder of the Worldwatch Institute said:
The communications industry is the only agency possessing the capacity to convey the knowledge necessary for sustainable development to the required extent and in the timeframe we have at our disposal.
These words inspired the editors at Gestalten press to publish Cause and Effect: Visualizing Sustainability, a book that showcases effective communications projects that educate people on the importance of sustainability. An abundance of advertising, graphic design, public art, videos, architecture, and exhibitions fill its 240 colorful pages.
Successful sustainability communication sensitizes people, puts its finger on problems and creates a sense of awareness.
Although The book was co-edited with R. Klanten and S. Ehmann, much of the written content was authored by Stephan Bohle, principal at futurestrategy, a German company that develops communication concepts for "supporting and advancing sustainable development in enterprises, organizations, and society."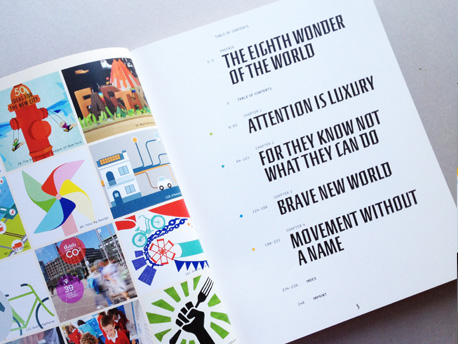 In the preface titled "The Eighth Wonder of the World," Bohle admits that the communications and design industries are partially responsible for the predicament in which human civilization has found itself. He sites the 1950s economist Victor Lebow who had the idea that buying consumer goods should be ritualized so that people would seek to satisfy their egos through consumption. According to Lebow "Things ought to be consumed, discarded, burned up and replaced at an ever-increasing pace."
We now know that resources are limited. There is overwhelming evidence that supports the reality of climate change. Fixing our crisis is not just a matter for scientists or technologists. The book's intro reads:
The real challenge lies in altering people's behavior patterns. What is required is a cultural transformation…
That's where communications specialists, designers, and artists step in. The same people that helped to seduce culture into a lifestyle of want and waste can persuade culture to embrace new behaviors. Bohle quotes MoMa curator Paola Antonelli:
Sustainability will become normal, integrated in all the other aspects that make life worth living, like humor, imagination, vision, curiosity, humanity, and love.
From there, the book splits into four chapters, each devoted to a communications-based approach to promoting sustainability.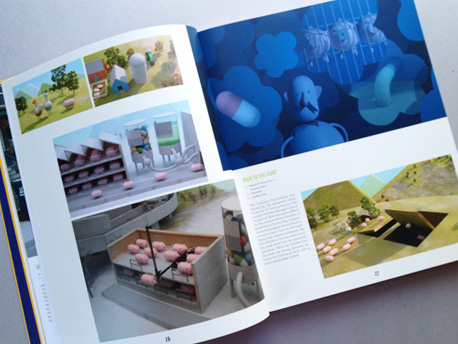 The projects featured in "Attention is Luxury," aim to relate complex ecological issues to everyday life. A stellar example is the "Back to the Start," video created by London's Nexus Productions for Chipotle. It pulls at the heart strings.
Using stop-motion animation, the film follows a farmer who turns his small farm into an industrial operation. When he realizes that he made the wrong decision, he turns his business back into a more sustainable system.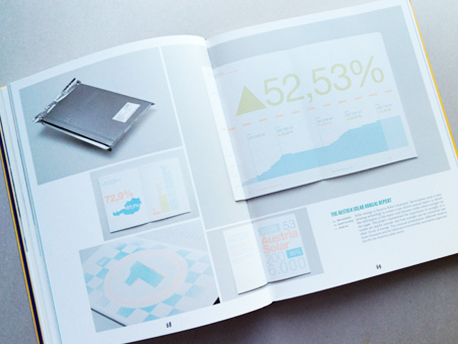 The chapter called "For They Know Not What They Can Do," features projects that encourage people to take action. One powerful project in this chapter is the annual report for Austria Solar, designed by Serviceplan. The report was printed with inks that became visible when exposed to sunlight.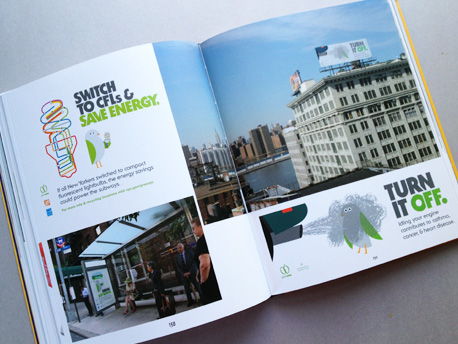 In the chapter called "Brave New World" the focus shifts from designed objects to designed systems. It includes public service campaigns and initiatives as well as sustainable products and services. One example is GreeNYC, an environmental initiative campaign with an adorable bird mascot, designed by HunterGatherer in New York.
The last chapter, "Movement Without a Name" discusses the concept of sustainable societies — that is, the notion that sustainable thinking can be embedded into the fabric of daily activities: all actions, routines, and conversations. Several exhibitions are featured in this chapter. "Post Oil City," by Arch+ and M:AI Museum and "Into the Open: Positioning Practice," by Project Projects are among these examples.
From posters to public campaigns, videos to interactive exhibitions, Cause and Effect offers a range of strategies for designers, artists, and communications professionals who want contribute to the sustainability conversation. After all, the subject is becoming less optional by the day.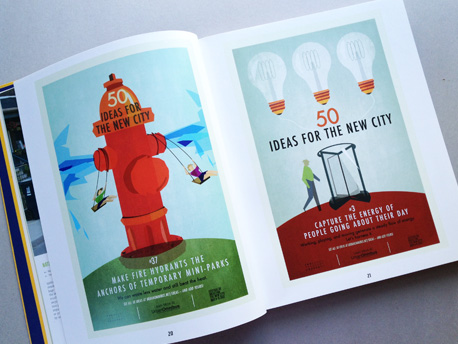 Cause and Effect: Visualizing Sustainability was published by Gestalten in 2012. It can be purchased at Amazon (US | UK).
About the Reviewer: Aggie Toppins is an Assistant Professor of Graphic Design at The University of Tennessee at Chattanooga. She holds an MFA in Graphic Design from the Maryland Institute College of Art and a BS in Graphic Design from the University of Cincinnati. Aggie has worked for over 10 years at design firms throughout the United States. She currently resides in Chattanooga with her husband Jason and her basset hound Jolly.