Eric Gill: Notes on Postage Stamps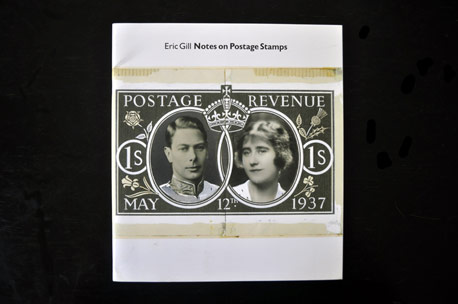 The second book in the Kat Ran Essays in Philatelics series, _ Eric Gill: Notes on Postage Stamps_, provides interesting insight into the history of Gill's not-so-successful career as a stamp designer. The essay is relatively short, spanning about 20 pages, but does an excellent job of illustrating Gill's stamp designs, as well as his personal character.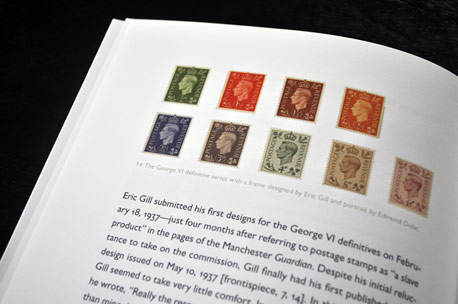 (Click to enlarge)
The book consists of a historical record of Gill's history of designing postage stamps, which were rejected more often than not, excerpts from several letters to friends and family containing his reactions to the rejections and Gill's typescript Notes on Postage Stamps with Reference to a Lecture of Mr. B. Guy Harrison. The text of the essay sits nicely nestled next to fifty-six full color illustrations of Gill's stamp designs and studies.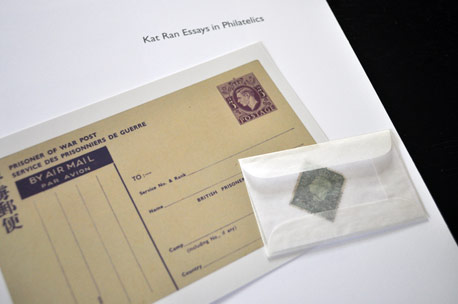 (Click to enlarge)
Also included with the book are a reproduction of a postcard that included a pre-printed stamp die of one of Gill's designs and an actual produced postage stamp designed by Gill. While only two of his designs ever made it into production, the essay also includes illustrations of the stamps that were selected in lieu of his other designs, which is a nice extra bit of visual information.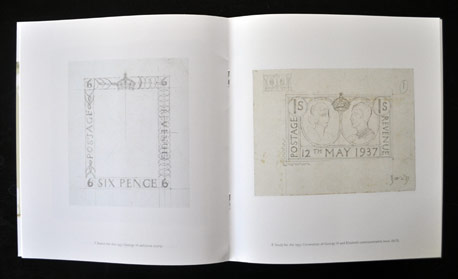 (Click to enlarge)
Gill was not afraid to broadcast his opinions about stamp design and his unabashed honesty is where you really start to get a sense of who he was, as well as his passion for design and typography:
Now in the case of postage stamps I understand the necessities are 1. the crown, 2. the portrait head, 3. the words "postage and revenue," and 4. the denomination. And if you say: please add some curlywigs or dolphins or roses or dandelions or shells or Corinthian columns, or something ornamental, I can only say: but why?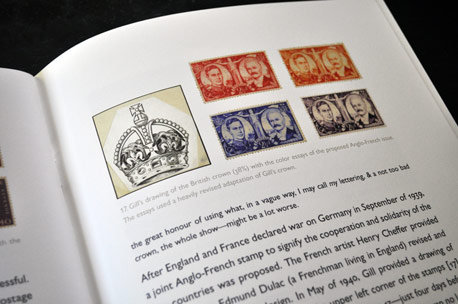 (Click to enlarge)
Eric Gill: Notes on Postage Stamps is published by Kat Ran Press. Unfortunately the essay it is out of print, but the publisher provides some handy links to places you may still be able to find it and a way to contact them for a list of dealers who might still have a copy for sale. It is well worth your time to try and track down a copy while you still can.
About the Reviewer Dominic Flask is a designer by nature, a teacher by application and a thoughtful companion by friendship. You can view his design portfolio here, his place of work here, and his in progress work here.