Just Design, Socially Conscious Design for Critical Causes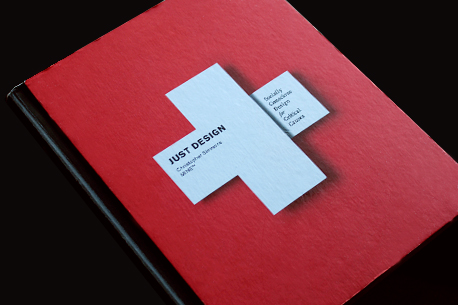 "Designers are the mediators of our daily experience. The easier my compost bucket is to use, the more appealing my reusable grocery bag, the more likely I am to participate in environmentally sound practices. Designers carry a heavy responsibility, but at the same time they can offer our future the greatest gift."
So says Gavin Newsom, current Lt. Governor of California and former Mayor of San Francisco, setting the tone for Just Design, Socially Conscious Design for Critical Causes (Amazon: US|UK|DE). The book is written by Christopher Simmons, a designer, educator, and founder of MINE, a San Francisco design studio. It is emphatically optimistic and offers a comprehensive compendium of inspiring work, relevant to any designer interested in social design. Simmons presents the current state of social design through a curated collection of projects and interviews by leaders in the field.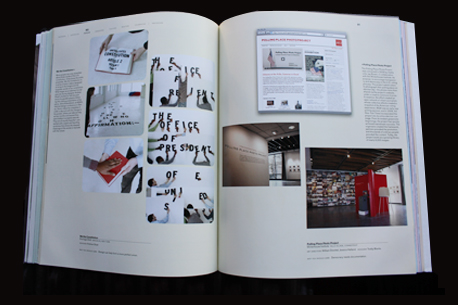 The breadth of work is impressive and it clearly showcases the spirit of socially conscious work. The interviews and essays highlight designers and educators who are passionate, smart, and committed to their responsibility.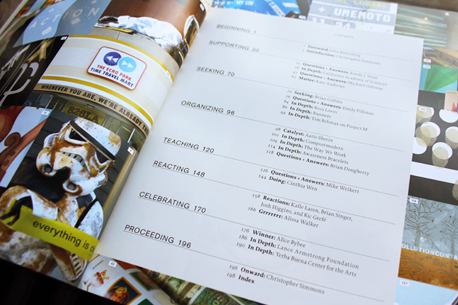 Just Design observes current themes in social design by presenting the book in seven parts: Supporting, Seeking, Organizing, Teaching, Reacting, Celebrating. Supporting presents projects designed by individuals who collaborate with established organizations. Teaching, features leading educators who are creating new programs in this area, as well as projects from social design classes. In essence, each chapter theme functions as a framework to curate projects.
But the book falls short of giving readers tools or pragmatic advice to incorporate into their own practice. And much of the book celebrates pro bono work created by firms who may have the extra resources to use or educational institutions that build social design projects into their curriculum. A solution to this could be a series of How To's for readers to explore, for example, 5 steps on how to engage with the community you're working with. Furthermore, the book could attempt to define a set of Best Practices for the area of Social Design to follow and build on as it evolves.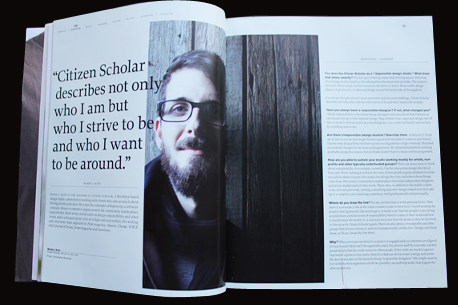 The most encouraging interviews describe realistic ways to do socially conscious work. Randy J. Hunt of Citizen Scholar in Brooklyn, describes how he balances his own studio while working full time as the Interaction Design Director at Etsy.com:
"These roles, in addition to the studio's client work, self-initiated work, writing, consulting, and other design-related activities add up to a complete and sustaining experience, both professionally and personally."
He reinforces the importance of working with people you like, "It tends to be that the people I enjoy being around share a similar sense of responsibility when it comes to their work and how it should enter the world." The interviews and essays offer a multitude of perspectives that allow the reader to form their own ideas of what socially conscious design means to them and where they fit in.
But process is missing.
Social design tends to focus on the user or the audience and the design with the most impact typically looks to the user to help develop a solution. Process is paramount and Just Design overlooks this. With such a diverse range of work, the process behind each project could begin to show us insights as to what approaches works best in particular situations.
Aaris Sherin, author and professor at St. John's University, offers salient advice to young designers who are interested in social design. She argues that making information clearer to an audience is one of the most overlooked areas of values-based design work. She goes on to offer a list of ideas for becoming a rock-star designer for good. The first idea simply being: Ask yourself, "What are my strengths?" Once identified, look for opportunities based on those attributes.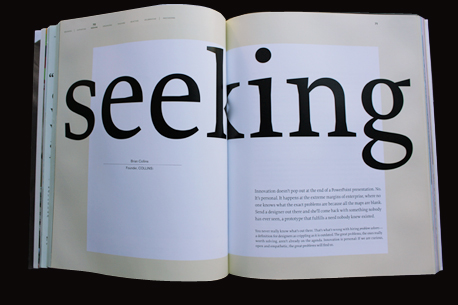 Overall, the case studies present a diverse range of work from the Polling Place Photo Project by Winterhouse Studio, to smaller collaborations like Freedom of the Press, a self-initiated newsprint publication, by Brian Ponto and Lindsay Ballant. Social design continues to broaden its scope by encompassing anything from community engaged projects to information design. But some of the projects are undecidedly socially conscious. For example, Ox-Bow school of art artists' residency brochure or California College of Arts' Architecture Lecture Series posters are not overtly 'doing good'. As a reader, you can decide for yourself where to draw the line, or if there should even be a distinction. The title, Just Design, alludes to this, as Simmons states, "Whether for greater good or greater profit, it's all just design."
Just Design, Socially Conscious Design for Critical Causes is published by HOW Books. You can support the Designer's Review of Books by ordering from Amazon (US|UK|DE). If you found this review helpful, you can support The Designer's Review of Books by purchasing from our Amazon store.
About the reviewer
Christina Beard is a graphic designer, writer, and sailing enthusiast. She is currently exploring the role of digital media in wayfinding and defining strategies to create better experiences at Two Twelve. Follow me on twitter @christinabeard.