Victore or, Who Died and Made You Boss?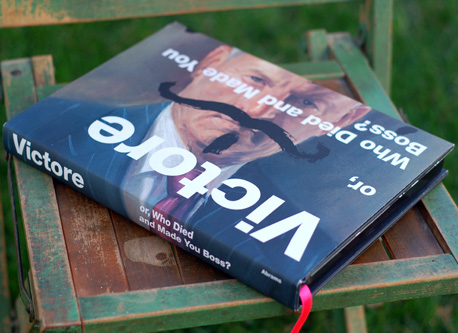 James Victore has never been one to mince words or images in his goal to communicate, and this book is no different. He starts by telling us that this book is not about graphic design, it is about ideas and opinions, more specifically, his ideas and his opinions. For better or for worse.
"At a lecture I gave, a designer plaintively explained to me that while he wanted to do creative work, he had rent to pay. "Fuck rent!" was my loud response. To give a damn is a personal calling, not a job description. Just make the work and nail it up on the wall."
Victore's book, Victore or, Who Died and Made You Boss? (he must have had a hard time naming the book based on the number of titles with strikes through them on the cover and endpapers) is written in a conversational tone that is both engaging and informative. Many of the passages describing the most well known of his work or his relationship to his mentor Paul Bacon can be found in various interviews, articles and videos around the internet. However, as familiar as some of the passages are, there is enough new material and back story here to keep even the most well researched Victore fan interested. Anecdotes about production, distribution and collaborations add color to the conversation and depth to the work that is being shown.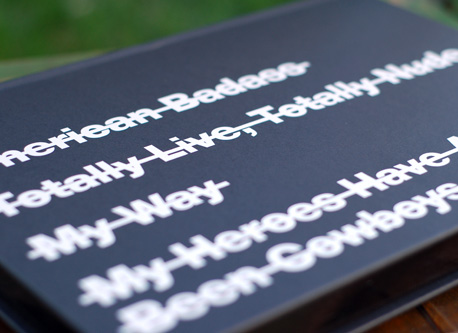 Along with the repeated descriptions, a majority of the work here has been reproduced in a number of different places: retrospectives, interviews, awards shows, design magazines and so on. However, there are a few nice surprises tucked between the more well known projects. The collection of holiday cards done as self promotion, the work for the wine maker Chris Ringland and the identity work for the Japanese fashion designer Yohji Yamamoto feels fresh because it has not been widely seen.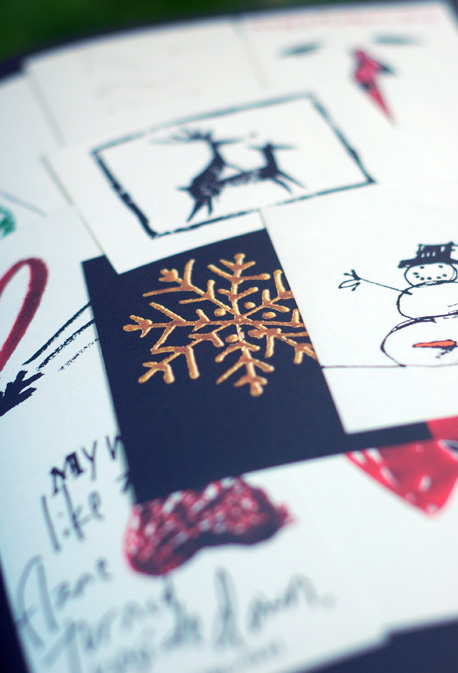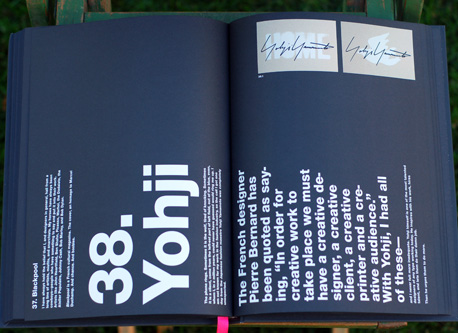 Victore's work has a very distinct visual style: scrawled handwriting, collaged images and layered compositions make up almost every piece. It is hard to see Victore's work and not know immediately that it is his. Don't get me wrong, this is not a bad thing. His formal style is important to the success of the work. It allows his ideas and opinions to be seen for what they are: the expression of personal belief. That is something this book communicates quite well, James Victore doesn't work on anything if he doesn't believe in it. This unapologetic stance is his greatest strength and what makes his work so memorable and speak to so many people.
"This book is not about art. I am a graphic designer, a commercial artist. I work in a business, but the saddest three words in the english language are, "It's just business." Because of business, and primarily the fear of losing it, clients—and in turn, designers—cannot ford to have an opinion. What a lousy position to be in! How can anybody make anything of value without an opinion? You can't do good work for a client who is afraid of telling the truth, and following the money almost always leads to poor work. With this book, I offer a body of work largely unsullied by financial reward."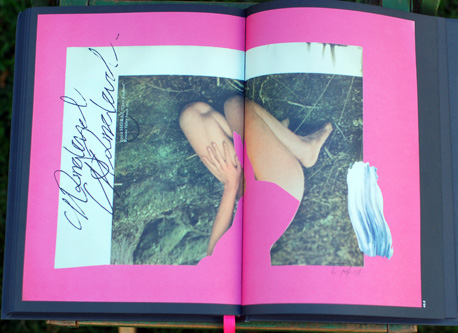 The book itself is beautifully designed by the Office of Paul Sahre. It is interesting to me when a designer chooses to have a book about their work designed by another designer or firm. The difference in style between the hand wrought designs of Victore and the clean, crisp design of Sahre provides a nice contrast and allows the work to really shine.
The first thing you will notice while reading this book is the text has been turned sideways, running from bottom to top, requiring you to rotate the book to read it. Sometimes the images follow the same sideways orientation, others they are vertical. The amount of rotation required to read this book in addition to the reversed white on black text can make you dizzy. This is not a book to read on a bus, especially if you have a tendency for motion sickness. I was curious about the sideways text decision until I came across project number 17.8 for Portfolio Center. There is a comment made in a letter to the editor of Communication Arts magazine describing how wrong and distasteful the "shinola" advertisement was. The writer states that turning an ad sideways is a device used "by only the dumbest of advertisers." I hope that turning the entire book sideways was not done in reaction to this one letter. I hope there is some other formal or conceptual factor at play in this decision that I am not aware of, but somehow I doubt it.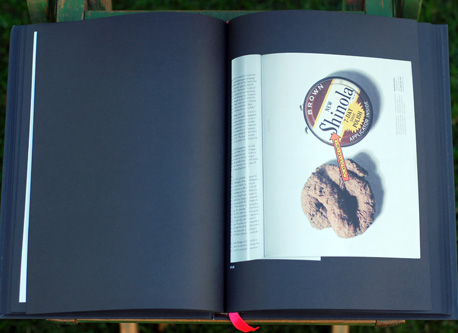 The cover folds out into a large poster and is a nice touch for a designer who uses the medium as the main vehicle for his communication. A two-sided poster, it has a defaced painting of an unnamed executive on one side and a nice collection of quotes from various creative types ranging from Walter Cronkite to Dr. Seuss on the other. I expect it to appear on the walls of many design departments across the world, and I wouldn't be surprised to learn that people buy two copies of the book so they can display both sides of the poster.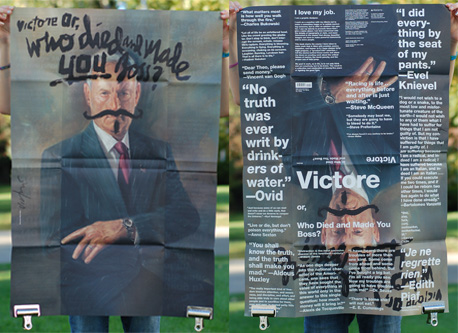 Victore or, Who Died and Made You Boss? is a well written, well designed and well presented collection of James Victore's work and ideas. This will become a very important reference book for designers and students everywhere.
Victore or, Who Died and Made You Boss? is published by Abrams and is available from Amazon (US|CA|UK|DE).
About the Reviewer
Jonathon Russell is a designer and educator at Central Michigan University. More of his writing can be found here.