I Am My Family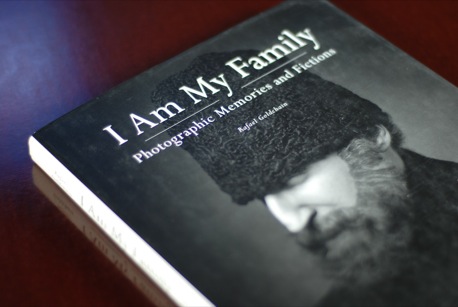 Review by Andrew Shea
We all want to know what our ancestors were like 50, 100 or even 200 years ago. Rafael Goldchain's new book, I Am My Family: Photographic Memories and Fictions (Amazon: US
|CA
|UK
|DE), answers these questions by dressing up as his deceased relatives and taking black and white photographs that represent his scattered and forgotten family history.
Martha Langford, an independent curator, introduces the book with an engaging essay that underscores Goldchain's driving desire to connect his newborn son with the memory, imagination and identity of his Jewish ancestry:
"Each of these characters is appealing through the photographer for remembrance. The surprising thing is that some of these never-to-be-forgotten were never in fact born, or, if they were, may not have been related to Goldchain. I Am My Family is as much about imagining as remembering, though this kind of imagining is remembering…[it] can be read as an extended search for identity, this time embodied (literally) in those who gave him life."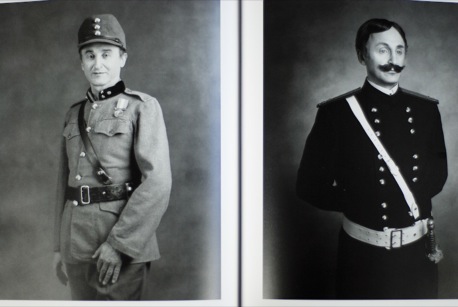 (Click to enlarge)
Goldchain openly admits that he had to imagine much of his family history. In fact, some of the photographs have little or no reference to his ancestors but were inspired by a family story or memory. His Artist Statement follows Langford's essay and he talks about being disconnected from his family history (his family fled Poland for Chile during the Nazi occupation and he has since moved to Mexico, Israel and now Canada), the photographic genre of self-portraiture and his process. Goldchain also points out the ghostly connotations that result from "emulating the look of early twentieth-century formal family-portrait photographs":
"…in each of these portraits there are at least two main subjects: the ancestor being reenacted, and myself as the performer. These two subjects hover like ghosts in the photo, forcing the viewer to move between them, never able to see both at once."
The fifty-four self-portraits come next. The first plate depicts Goldchain's grandfather as a schoolboy and, like many of the photographs, is accompanied by a written description. This is Goldchain's only performance as a child and it shows his willingness to fictionalize the ancestors he plays. In fact, there are no photos of his grandfather as a schoolboy. Goldchain candidly reveals which details are authentic in each photograph and which are fabrication or imitation. The most striking example in this photograph is the eagle emblem on the boy's hat that was downloaded from the internet and Photoshopped onto the pin after the photograph was taken.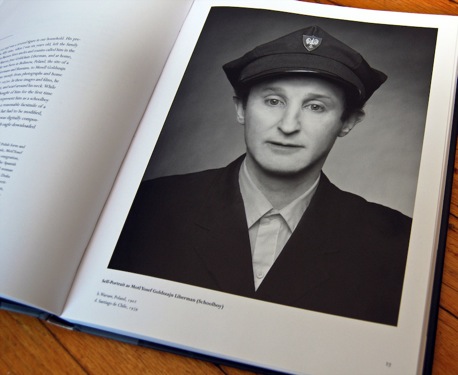 (Click to enlarge)
There are only a few self-portraits where you struggle to see traces of Goldchain. Even when depicting the wrinkled age of his heavily accessorized ancestors, the personality of Goldchain's eyes reveals his identity. As he puts it:
"…the ghostly figures of my ancestors emerge into visibility while simultaneously concealing themselves behind my own likeness and behind the conventions of the photographic portrait."
It is hard to page through these images and not think of other self-portraiture photographers like Nikki Lee, who transforms herself into people that she met on the street. More famously, Cindy Sherman photographed herself in portraying actresses who belong in foreign films, B-movies, and film noir. Both of these photographers mask their identify in self-portraits but neither of them focus on such personal subject matter. Goldchain reinvents this photographic sub-genre by making it his mission to "…stage familial ghosts while simultaneously emphasizing and mourning their loss."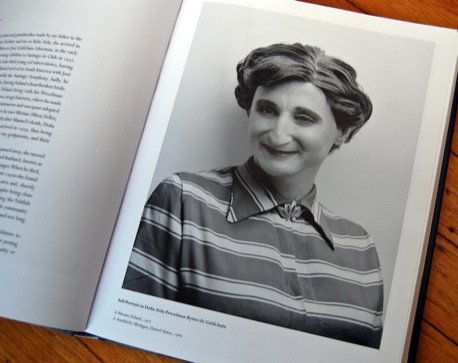 (Click to enlarge)
Goldchain's portrayal of his paternal grandmother is one of my favorites. He closely approximates his grandmother's hair, her listless expression and her striped blouse that is pinned with a broach. He convincingly crosses the gender except for a few nuanced details in her hair, dress and lighting. He also describes his process in the fourth section of the book, where you can see a photograph of his grandmother and his sketches.
The extensive research into his family tree is the focus of the fourth part of the book. This section clues the reader into Goldchain's transformation into each character using makeup, wigs, lighting and the assistance of a small crew. As a performer, he plays the part of musicians, soldiers, rabbis and radio personalities that were bald, bearded, fat or gaunt.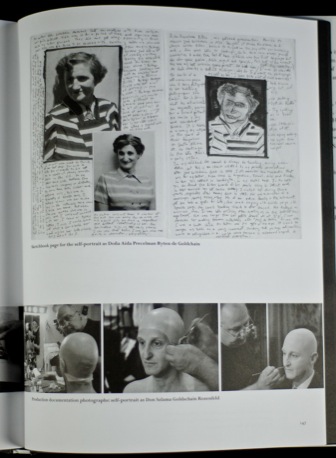 (Click to enlarge)
The book is beautifully designed. Each photograph has room to breath and is poetically described. Goldchain succeeds in making us interested in his family history. More important to the graphic design community is Goldchain's total authorship of his personal project. This is not just a book of photos. Goldchain designed this project from his research into each character and his performance and authorship shows that he is entirely in control.
When I started to study photography, a friend told that every picture I ever take will be a self-portrait. I took the comment to be a needless distraction but I Am My Family embraces the adage and helps us to imagine ourselves in the faces of our family history.
I Am My Family: Photographic Memories and Fictions
by Rafael Goldchain
168 pages, Princeton Architectural Press, 2008
You can support The Designer's Review of Books by buying I Am My Family: Photographic Memories and Fictions from Amazon (US
|CA
|UK
|DE) or through The Designer's Review of Books store.
About the Reviewer
Andrew Shea is currently a graduate student in the department of graphic design at the Maryland Institute College of Art. His thesis research focuses on the underlying principles that guide design for social change.